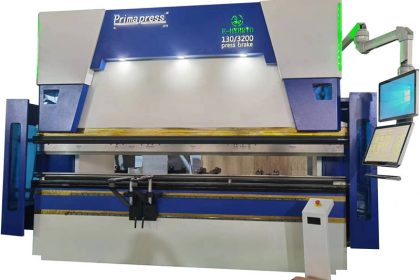 Application of electro-hydraulic servo CNC Press brake in stainless steel processing industry
There are many common processing materials for electro-hydraulic servo CNC Press brake, such as galvanized steel plate, hot-dip galvanized steel plate, cold rolled steel plate, hot rolled steel plate, galvanized steel plate, aluminum plated steel plate, stainless steel plate, aluminum material, etc. The thickness of the processed plate determines the nominal pressure of the Press brake. The Press brake of the same tonnage can process the material thickness of iron plate and aluminum plate, but cannot process the stainless steel plate of the same thickness. This is because the stainless steel itself has high yield point, high hardness, and significant cold hardening effect. Relatively speaking, the processing standard of stainless steel is higher, and the performance requirements of Press brake are higher.
With the continuous emergence of highly advanced stainless steel products, the stainless steel industry's product processing standards not only require high precision and efficiency, but also high straightness. Personalized optimal solutions are provided for different products, and equipment noise is also low. This puts forward higher requirements for bending equipment. Can an electro-hydraulic servo CNC Press brake meet so many processing requirements at the same time?
To Do a good job, one must first use their tools, and fully understand the importance of quality and efficiency for production enterprises
Sex is a necessary tool for ensuring production with a good processing equipment.
A high standard electro-hydraulic servo CNC Press brake, for 201 stainless steel decorative strip industry, 10 * 16 * 10 small U-shaped V6 notch, can achieve no clamping, no slotting, no newspaper padding, processing parts not only need high precision, but also to fold the workpiece straight, with ultra-high straightness.
(Stainless steel decorative strip)
For 4 meter long workpieces with a size of 10 * 10, it is difficult to bend with multiple knives. If there is no groove, it is even more difficult to bend straight with one knife. A high standard electro-hydraulic servo CNC Press brake and a good stainless steel processing scheme can completely solve this problem, ensuring that one knife is folded into an L shape and two knives into a U shape.
In the scheme of stainless steel cabinet processing industry, the electro-hydraulic servo CNC Press brake can realize continuous positioning and automatic bending, with the repeated positioning accuracy of 0.05MM and the three knife forming accuracy of 0.1MM, making the stainless steel cabinet fit perfectly, with both high molding accuracy and straightness.
The stainless steel industry should choose a user-friendly electro-hydraulic servo CNC Press brake. In addition to comparing the brand and equipment configuration, it should also consider the design level, assembly ability and professionalism. The configuration of the equipment may be uneven and may be fraudulent, but the processing effect of the equipment's use experience is not deceptive, and the noise control ability can also provide a visual experience.