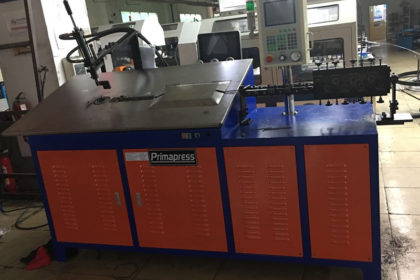 CNC 2D Wire Bending Machine Automatic 2D Wire Bender Machine are exported
Primapress are exported more and more CNC 2D Wire Bending Machine Automatic 2D Wire Bender Machines.
this 2D Wire bending machine is very very useful in the steel wire bending industry like a new technology.
The computer controlled seven axis synchronous full automatic 2D wire bending machine can convert the product immediately
under the same line diameter and its own program; without the need of the special mold, it greatly reduces the time and cost of
the newly developed product; the stereoscopic molding can produce a three-dimensional shape line molding product;
with an auxiliary lifting platform, it can further guarantee the production. The stability and consistency of the product;
the cutting knife can move down to allow more space for product molding. 2D  wire bending machine:
CNC 2D wire bending machine is to produce kinds of wire forms expertly with high precision and fast speed.
Adopts Japanese brand servo motor and screen display with the controller.
we give free wooden case package for all the export 2D Wire bender machines.