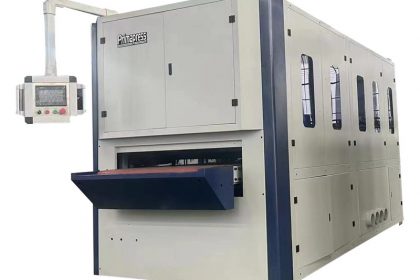 Development Trends and Technology Frontiers of metal deburring machine steel polishing machineEquipment
1,Developing towards high precision and efficiency of metal deburring machine
With the continuous progress of science and technology, the requirements for accuracy, efficiency, and quality are becoming higher and higher. Ultra precision machining technology aims to push towards the limit of machining accuracy, which is infinite. The current goal is to advance towards the nanoscale, while the current situation is at the sub level of nanometer level
Developing towards large-scale and miniaturization of metal deburring machine
Due to the development of aerospace and other technologies, large optoelectronic devices require large-scale ultra precision machining equipment, such as the ultra precision machining machine tool for large optical devices with a processing diameter of 2.4-4m developed in the United States.
Due to the development of micro machinery and integrated circuits, ultra precision machining technology is moving towards miniaturization, such as micro sensors and micro drives.
Developing towards integrated processing and testing of metal deburring machine
Due to the high precision of ultra precision machining, corresponding detection technologies must be developed to meet its requirements; At the same time, the method of independent processing and testing may not be feasible due to installation errors, so in-place testing methods should be adopted to integrate processing and testing.
Online detection and error compensation of metal deburring machine
The precision of ultra precision machining is very high, with many influencing factors and complexity. It is necessary to conduct online detection and working condition monitoring to ensure machining quality and stability. Due to the high precision of ultra precision machining, the accuracy of the machining equipment itself is sometimes difficult to meet the requirements. Therefore, online detection and error compensation methods need to be adopted to improve accuracy and ensure the requirements of machining quality.
The Mechanism of New Ultra Precision Machining Methods  of metal deburring machine
The study of machining mechanisms is the growth point of new technologies. Ultra precision machining mechanisms involve the micro world and the internal structure of matter, and the energy used includes machinery, light, electricity, sound, heat, chemistry, magnetism, atoms, etc., which are very extensive. Not only can separation and removal processing be used, but layered stacking processing can also be used; Both individual processing methods and composite processing methods can be used. The study of processing mechanisms often has a sudden nature.
Research on New Materials  of metal deburring machine
New materials include new tool materials (cutting, grinding) and processed materials. The processed materials of precision machining and ultra precision machining have a great impact on their processing quality, and their chemical composition and mechanical properties are strictly required, and further research is needed.
Currently, the urgent need for research on practicality in precision machining and ultra precision machining in China. Promote some mature or relatively mature precision and ultra precision machining technologies to the practical cloud, in order to improve the level of machining technology, and make the quality of mechanical products produced better and productivity higher.