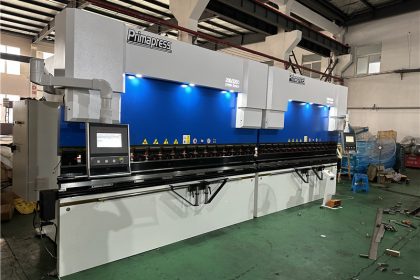 Function and control system of double machine linkage tandem plate press brake bending machine
The double machine linkage tandem plate press brake bending machine adopts the whole machine weldable structure. The frame is composed of left and right wall plates, workbench, oil tank, bracing, synchronous shaft and sliding block. After welding, the parts are stress relieved by vibration, with good precision retention. The frame structure makes the strength meet the requirements, and the transportation is convenient.
Electric rear stopper and slider stroke adjustment, manual fine adjustment, digital display, compact hydraulic power unit structure, easy installation, integrated hydraulic valve block with limited oil channels and joints. The slider is driven on, with a wide speed adjustment range, and stable and reliable operation.
1、 Function:
Slow bending function: You can set the bending speed for easy operation, as well as set the starting position for slow bending and the waiting time between work steps.
Back pull bending function: After the upper and lower molds clamp the material, the fixed gauge will retreat to avoid interference between the fixed gauge and the material during the bending process.
Arc bending function: Simply enter the spacing and number of steps to automatically convert arc bending.
Line drawing and bending function.
Multiple lower and upper limit setting functions: Adopting an electro-hydraulic servo valve control system and grating ruler feedback, it can locate any point within the stroke, accurately determine the bending depth, and also adjust the bending angle of the workpiece without stages.
Handwheel control function: The D-axis and L-axis can be freely controlled by hand. When the workpiece is undergoing trial bending, the handwheel adjustment function is used to facilitate understanding and improve safety.
Remote assistance control function.
2、 Control system:
The dual machine linkage tandem plate press brake bending machineadopts a new type of color LCD touch operation panel, with bright colors. Touch input programming allows direct input and angle input programming.
The bending angle control and rear positioning programming can be set through CNC and fine tuned by the handwheel.
Can store 100 products, each with 30 steps.
A high-speed and high-precision automatic positioning device for workpiece bending using D-axis and L-axis control.