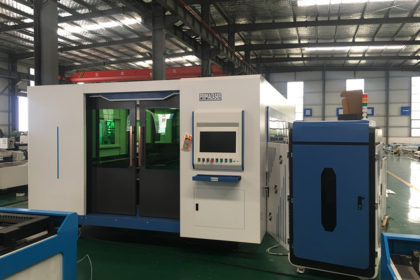 High power Big watts metal plate full cover Exchange Platform cnc fiber lasers machine are popular
In recent years, the most significant and fastest development in the entire laser industry in China is undoubtedly
the fiber laser market. Since entering the market, fiber lasers have experienced spurt growth over the past decade.
At present, the market share of fiber lasers in the industrial field has exceeded 50%, which is an unassailable overlord
in this field. Global industrial laser revenues have increased from $2.34 billion in 2012 to $4.88 billion in 2017,
and the market has doubled. There is no doubt that fiber lasers have become the mainstay of the laser industry, and this situation will remain for a long time in the future.
ALL-ROUNDER
One of the most attractive advantages of fiber lasers is their wide range of materials, their applicability, and low maintenance costs.
It can process not only common carbon steel, stainless steel, alloy and non-metal materials, but also cutting and welding
highly reflective metals such as brass, aluminum, copper, gold and silver.
Fiber lasers can be used not only for cutting a variety of highly reflective metals, but also for a wide range of applications.
For example, cutting thick copper for electrical connection to the bus, cutting thin copper for building materials, cutting/
welding gold and silver for jewelry design, welding aluminum for fuselage structure or automobile body.
Better processing tools
If the development trend of fiber lasers is seen from the trend of medium and high power laser processing, the most popular
fiber lasers in the early market are 1 kW to 2 kW. However, with the pursuit of improved processing speed and efficiency,
3k ~ 6kW products have become the industry's hottest. In the future, this trend is expected to drive the industry's demand
for 10 kW and higher power segment fiber lasers.
All Cover Exchange Platform Laser Cutting Machine advantages
The main application of laser cutting is to cut and dispose metal plate of the appearance and thin steel components in
sets of circuit elements. In appliance industry, the metal plate parts accounts for more than 10% in all parts of products.
Traditional techniques such as cutting, chamferring, tapping and trimming are backward and this directly affects products'
quality and production costs. Laser cutting machine uses contactless processing. It's no need to open the mould, which contributes
to money-saving. Pattern is made by software and it shows more diversity than before. For example, metal parts of conditioners
and cover-cutting; heat dissipation sheet cutting on the bottom or back of refrigerators; blade cutting of juicers. These all benefit
from laser cutting technology and it will contributes to bring more benefits for manufacturers by improving products quality,
saving cost of production as well as reducing labor intensity ..
Advanced laser technology achieves many home appliances and makes convenience for human. In the future, more appliances
will step into intelligence time. Laser technology, with more functions, cooler appearance, exquisite design will  cut a conspicuous
figure through improving and developing appliance industry