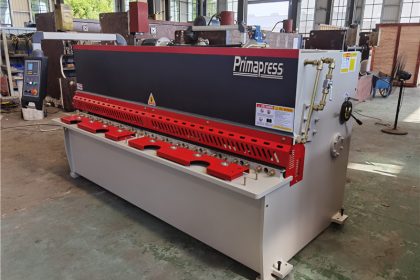 India customer order Primapress plate metal 4*2500 swing beam shear shearing machine
this is written by Primapress new salesman Mrs Amanda Tao.
Our company was originally founded by a small enterprise, since its establishment, our company developed rapidly and gradually growing, especially in export, our machinery and equipment sold to all countries, not only get the customer praise, and also established a long-term relationship, in various countries have our agency, help our brand promotion and gradually expand the market, until today has become the leader in the sheet metal industry.
Our company has a good leader, under his purpose, teach us everything to think of customers, better serve customers, so that every one of our customers feel that it is his exclusive sales.
In such a trend, our brand is more and more occupy the market, more people know our brand and choose us, we also continue to innovate and improve, so that the quality and quality of our machines gradually improve.
At the end of July 2022 of this year, i was very happy to get in touch with Mr.Vishal, he didn't trust me so much at first, always asking about all the machines that our company makes, after my careful introduction, finally showed me the demand of the machinery he purchased, and asked me some professional questions, i recommended the best machine for him and shared relevant photos and videos, he was very interested in our machines, and i said some more details, and let me send an offer to him, after half a month of following-up, the customer asked the 6 * 3200 shearing machine, I'm very happy that he made a very professional inquiry, and let me also learn a lot, after another week of details confirmation, the customer finally confirmed the 4 * 2500 swing beam shear shearing machine, and other machines will be needed later on.
I carefully checked all the details he needed, and all determined, finally placed the order.
In fact, if the customer really has a need for the machine, as long as he builds trust in us, patiently follow up patiently and answer his questions professionally, he will place an order.
After customers place an order, after-sales service is also very important. Whether the customers who just started to cooperate with them, or the customers who have been working with them, Primapress will not only give them the best quality machine, but also have the most timely after-sales service, so that customers will always choose us and continue to cooperate.
As long as we trust each other with each customer, I firmly believe that we will become stronger in the future development.