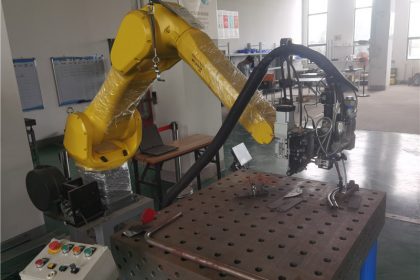 Learn more about 3D manipulator fiber laser welding machine robot arm
The three-dimensional manipulator fiber laser welding machine equipment can cope with common production and processing raw materials and flexible production and processing styles. The three-dimensional laser welding machine can well handle complex production and processing regulations, and meet the needs of sheet metal processing plants with high-speed operation, high precision and high quality. Hardware processing, kitchen supplies, trolleys, electronic devices, artworks, small toys, lighting fixtures, woodworking saw blades, high-voltage switch cabinets for electrical equipment, various metal products, textile equipment, grain and oil machinery, frame glasses production, instrumentation equipment and other manufacturing industries Application requirements in industries such as trolleys, plastics, electrical equipment and electronic devices, and textile products.
Learn more about 3D manipulator fiber laser welding machine robot arm
The 3D manipulator fiber laser welding machine robot arm is composed of an articulated 6-axis manipulator, a fiber laser cutting head and welding software. The 3D manipulator fiber laser welding machine robot arm is mainly suitable for laser processing of 3D metal workpieces, such as: automobile doors and windows, exhaust pipes, etc. 3D special-shaped Laser processing of workpieces. The 3D manipulator fiber laser welding machine robot arm uses 3D programming to edit the laser welding path, and can realize offline programming to simulate laser welding and observe the welding path. The accuracy of the 3D manipulator fiber laser welding machine robot arm is lower than that of the desktop plane 2D cutting. But to complete the laser cutting of three-dimensional special-shaped parts, it can only be done by three-dimensional laser welding.
Three-dimensional manipulator laser welding machine principle:
The 3D manipulator fiber laser welding machine robot arm uses an advanced fiber laser to output a high-energy and dense laser beam and focuses on the surface of the workpiece, so that the area on the workpiece irradiated by the ultra-fine focus spot is instantly melted and vaporized, and the spot irradiation position is moved by the numerical control mechanical system. And realize automatic cutting. It is a high-tech equipment integrating advanced fiber laser technology, numerical control technology and precision mechanical technology.
Features of 3D manipulator fiber laser welding machine:
Low cost, the laser consumes only 5-8 degrees per hour; it can cut various metal sheets by blowing air;
High performance, imported original packaged fiber laser, stable performance, service life up to 100,000 hours;
High speed, cutting rate, the speed of cutting thin plate can reach tens of meters per minute;
Laser maintenance-free;
The cutting edge quality is good, the deformation is small, the appearance is smooth and beautiful;
Adopt imported rack and pinion guide mechanism and servo motor, high cutting precision;
Various graphics or text can be designed at will and cut instantly, and the operation is simple, flexible and convenient.
3D laser welding machine application range:
The sheet metal covering parts of auto parts including hood, rear cover box, water tank frame, bumper, fender, door and ingot beam, control arm, rear axle, etc. of chassis parts often require three-dimensional cutting, including trimming and punching etc.
Prima 3D laser welding machine is widely used in the automotive industry because it can produce light-weight and low-cost auto parts, which meets the principles of energy conservation and environmental protection in the automotive industry. Moreover, in the process of manufacturing, laser welding machine manufacturers will continuously optimize the welding process to improve the production quality of auto parts. In this process, the role of metal laser welding machines is relatively large, basically large Part of the auto parts are provided with services. Based on the above analysis, it can be concluded that the automatic laser welding machine is suitable for the automobile industry, and it is hoped that this process can make China's automobile manufacturing level reach the international advanced level.
Material scope. Suitable for stainless steel, carbon steel, alloy steel, silicon steel, galvanized steel sheet, nickel-titanium alloy, inconel, aluminum, aluminum alloy, titanium alloy, copper and other metal materials. Widely used in aerospace, automobile and ship, machinery manufacturing, elevator manufacturing, advertising production, household appliance manufacturing, medical equipment, hardware, decoration, metal external processing services and other manufacturing industries.