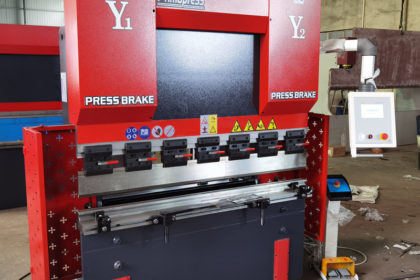 Main Components and Structure Description of CNC Bending Machine Tool
Main parts and structure description of CNC bending machine tool:
Slider: Hydraulic transmission is adopted. Slider is composed of slipper, cylinder and fine-tuning structure of mechanical block.
The left and right cylinders are fixed on the frame, and the piston (rod) drives the slider up and down by hydraulic pressure.
The mechanical block is controlled and adjusted by the numerical control system.
Workbench part: It is operated by button box, so that the motor drives the shield to move forward and backward, and the
distance of movement is controlled by numerical control system. Its minimum reading is 0.01 mm (both front and rear positions have the limit of stroke switch).
Synchronization system: The machine is composed of torsion shaft, swing arm and joint bearing. It has simple structure, stable
and reliable performance and high synchronization accuracy. The mechanical block is regulated by the motor, and the numerical control system controls the value.
Material retaining mechanism: Material retaining is driven by motor, and two screw rods are moved synchronously by chain operation.
The size of material retaining is controlled by numerical control system. The combination of laser processing system and computer numerical
control technology can form efficient automatic processing equipment, which opens up broad prospects for high quality, high efficiency and
low cost processing and production. Laser engraving machine is a new type of laser peripheral processing equipment which combines
laser technology and computer technology. Laser engraving machine adopts high-performance laser and numerical control technology,
through self-developed optical system, control system and computer software, realizes three-dimensional dynamic precision laser engraving in crystal and glass.
It solves the problems of slow engraving speed, unstable system operation, loss of laser point, incomplete function of image and word processing software,
using computer interface control card and laser explosion point. Equilibrium, imperfect automatic control device, low cost performance of equipment
and other issues. It improves the efficiency, accuracy, maintainability, versatility and security of the system. It is inevitable that the inner sculptures
of crystal glass will become richer in color. Using the optical principle that the inner carving part of crystal glass crafts has strong reflection and refraction to light,
while the blank part has better permeability to light, the micro-control circuit controls several kinds of color lights according to the principle of three-tone palette,
mixes colors on the "inner carving" image, and changes many kinds of gorgeous colors, so that the original white inner carving image is presented.
It shows a colorful and brilliant effect. Main Components and Structure Description of CNC press brake Bending Machine
The Difference between CNC Bending Machine and Common Bending Machine
CNC press brake bending machine and ordinary bending machine are made of stainless steel, ordinary steel plate and other plate processing;
The difference is whether there is computer control and whether there is automatic feedback.
The results are as follows: different processing speed, accuracy and efficiency;
Nowadays, the customers who buy new bending machines usually buy CNC, because the same batch of sheet metal can be
processed in two days by ordinary machines, while CNC machine can be finished in half a day, and the accuracy is still higher.