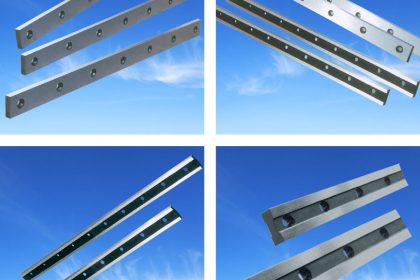 Metal shear machine blade knowledge and how to improve the service life of shear blade
Material requirements for Metal shear machines blade
The shear blade has been widely used by many factories and people, so what is the specific function of the shear blade? What does it do? What are the characteristics?
Let me talk about it.
The materials cut by the shears are very different, and the temperature of the materials is also different. The temperature and thickness of the high-temperature
hot plate are both a test of the shear blade.
temperature:
The temperature here refers to the specific temperature of the material being cut by the hydraulic pendulum shears. The shearing blades of different materials
have different temperature tolerances. However, the shearing blades of many materials have strong high temperature resistance. But the scope of its suffering is
very limited. If the temperature of the processing material is higher than the limit that the shear blade can withstand, the blade will be damaged.
thickness:
The thickness of the processed plate is also very provocative for the shear blade, and the thickness of the blade has different requirements for the hardness
of the blade. If the blade hardness of the shearing machine is too high, the blade will easily collapse and damage when cutting high-temperature thick plates.
How to increase the service life of shears blades
How to improve the service life of the shear blade? Why does the blade often break?
The cutting quality of the shearing machine blade and the sharpness of the cutting edge depend on the quality of the processing and sharpening.
Our domestic customers often complain that the shearing machine blades are not durable, and they think that the domestic delivery shears blades are not very durable.
The problem of the Metal shear machine  blade is still the problem of its own operation, and the following analysis is analyzed.
Whether a pair of shears blades are useful, we should consider from three aspects:
The first point is that we must be stable in the selection of shear blades. Some customers blindly pursue cheapness. Regardless of whether the material of the
Metal shear machine  blade
bought back is suitable for the material of the plate they want to cut, this is not acceptable, because Each metal material has its own characteristics, so choose the
appropriate shear blade according to your product.
The second point is that we must stabilize the gap between the blades when installing the shears blades. If the gap is too large, the product will be cut too much burrs.
If the gap is too small, it will cause the upper knife and the lower knife. Cutting knife, so the gap should be scheduled according to the sheet material that needs to be cut.
The third point is over-load cutting. For example, you bought a 6*2500 shearing machine, but it is used to cut 8mm, 10mm, and even more outrageously,
it is used to cut thicker plates. Such overload cutting will cause great damage to the shear blades and shears.