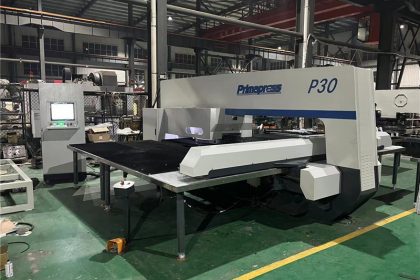 Primapress cnc Turret Punch punching machine 32 stations purchase process
In November 2021, engineer nabil contacted me, contacted me for cnc Turret Punch punching machine 32 stations on Alibaba at that time, and then added chat through whatAPP, and I got that they are engaged in some construction of air duct equipment, they need our punch equipment, after that Through chat, Primapress learned that they need to punch some outer casings of the air conditioner, so they need to use a punching device, and the customer needs an automatic device, so they recommend turret punching, which can quickly complete punching and is fully automatic. The unit is very suitable for the customer and has been very satisfied with the customer.
Then I struck while the iron was hot, and I provided the customer with an accurate quotation. The customer was very satisfied, and said that he would contact me after considering it. The first part of the customer's willingness to buy is over at the current location, and I made a preliminary quotation.
After three or four days, I took the initiative to look for customers and asked them about the quotation I sent. The customer said that he needed to discuss with the partner and then decided. Then, after sending some blessings to the customer, the second part of the active rhetorical question to the customer ended.
After a few days, I looked for a customer again, and the customer finally expressed to me that he wanted to buy this mechanical equipment, but he needed me to give a final price for cnc Turret Punch punching machine 32 stations , so I gave the customer a discount of 500 US dollars, and the customer asked whether it could be automated programming, And said that it is all possible, Primapress are all hydraulic fully automatic turret punching, these basic requirements are all possible, and the customer is very satisfied.
At the same time, Primapress have reached a preliminary cooperation intention with customers for the cnc Turret Punch punching machine 32 stations.
In the face of customers, Primapress can never say no. Primapress need to ask and give the best solutions to customers' requirements. Only in this way can Primapress improve the satisfaction of customers and achieve cooperation.
At the same time, Primapress also have to solve all the problems after the customer's sale, reply and communicate in time, so that Primapress can cooperate for a long time.
Primapress can always give a full solutions for the sheet metal fabrication shearing bending punching machine. we are always help all customers from the world.