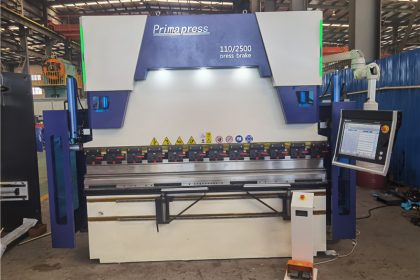 Shipped 110T/2500 DA66T CNC electric hydraulic servo press brake
Our primapress company was established from a small factory and has grown in exports every year. In the decades when we first produced and manufactured machinery, we have sold machinery and equipment all over the world, and also attracted It has been highly praised by many customers and has established many long-term customers, including our large distributors in the United States, Russia, Iran, South Africa and other countries.
Our overall exports this year are biased towards the electro -hydraulic bending machine. More and more customers not only care about the price of mechanical equipment, but also care more and more about the configuration of mechanical equipment and various advanced customization, so our primapress goals of our primapress It is to create an exclusive bending machine exclusive to each customer for more and more customers. We customize each mechanical equipment for customers.
On July 5th, 2022, I met Mr. Steve from the United States. We are closely interested in email. I am very honored to be very interested in the bending machine of the DELEMDA66T produced by our company. Thickness and length, I recommended him 110T/2500 bending machine, and then we talked about the configuration of many mechanical equipment. I was very impressive. When I talked about the bending machine, I talked with me a lot of machinery and equipment. Details, such as motors, valve groups, and laser protection.
For the machinery and equipment of the bending machine, we are not only depending on the motor, the valve group, the system, we also depend on whether the rack is thickened and widen, but we also need to pay attention to many small details, such as the mold with machinery and equipment. We are all bending molds with the best material. Because we think that for customers, the purchase of machinery and equipment is used for production, and the bending machine molds are equally important. Our bending machine molds have gone through overall quenching to reach the hardness of about 50 degrees. The hardness can reach about 58 degrees, so the details of many machinery and equipment are very important.
Our Primapress is still strengthening our factory building and team. We have purchased more than 10,000 square meters of factory buildings to produce bending machines and shear machines. I believe that in the near future, we can create a better future Essence!