Description
Cheap sheet metal hydraulic  shearing machine , good price guillotine shearing machines
Video link: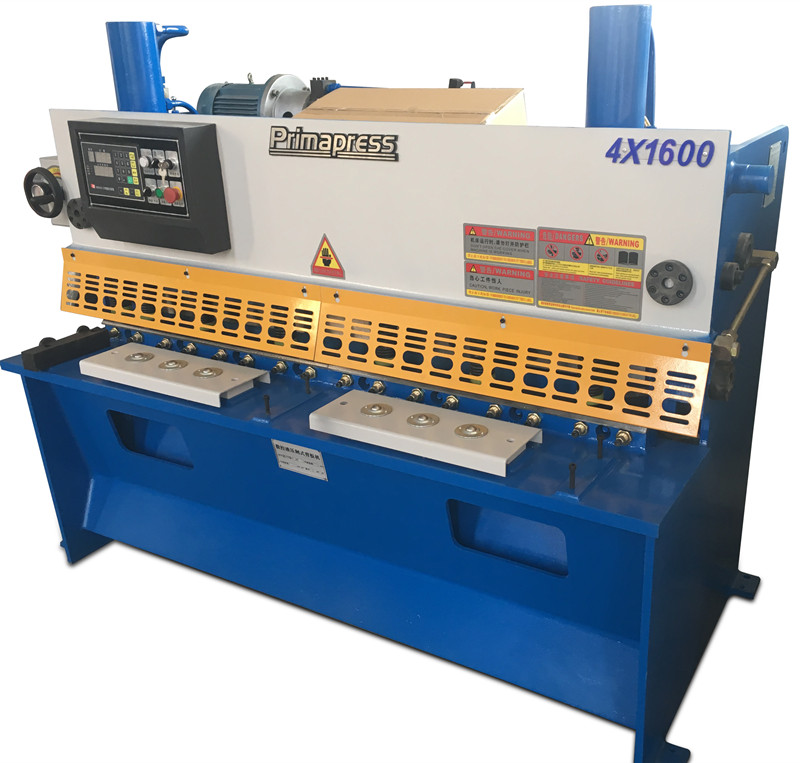 QC11Y hydraulic shearing machine is Prima patented design. it is mainly for the short pieces shearing work.
we can make it 4x1300mm, 4x1600mm 4x2000mm, until to 16x2000mm model.
1,The Machine of Whole structure and Characteristics:
1.Totally European design,streamlined looking,Frame: consists of right and left wall boards, working table, oil box, slot steel and etc. The stress of the welded parts can be eliminated by vibration. The machine enjoys high accuracy and high strength and can be transported easily.
2.As the cutting beam has been designed in inner-inclined structure, it is easy for plates to fall down and the accuracy of products can also be guaranteed.
– High accuracy efficiency, simple and convenient operation, good performance, favorable price .
– The machine by the European Union CE certification and ISO quality system certification
2.Required specifications
NO
Item
Parameter value
Unit
 
1
Cutting thickness
4
MM
2
Cutting length
2000
MM
3
Travel times
12-18
t/min
4
Backgauge
600mm
MM
5
Cutting angle
1.5 degree
6
Motor power
5
KW
7
Dimension(L*W*H)
2500x1180x1700
MM
8
Control
Digital display X,Y accuracy 0.01mm
9
Weight
Nearly 2.5
ton
10
Power(optional)
3-phase AC 220V ± 10% 60HZ
11
Blade Material
6CrW2Si
3.Attachment With the machine
No
Items
parameters
remarks
1
Upper blade Down blade
2
set
3
Bolt &Nut
8
4
feet nut washer
4
5
Allen wrench&Grease Gun
1 set
3 to 14 mm (maintenance tool)
6
technical documents
certificate of the product, including operation and maintenance manual, electrical, hydraulic schematics, purchased parts inventory, basic maps, packing list.