Description
CNC ECO full Electric Servo Bending Machine pure electrical servo cnc press brake machine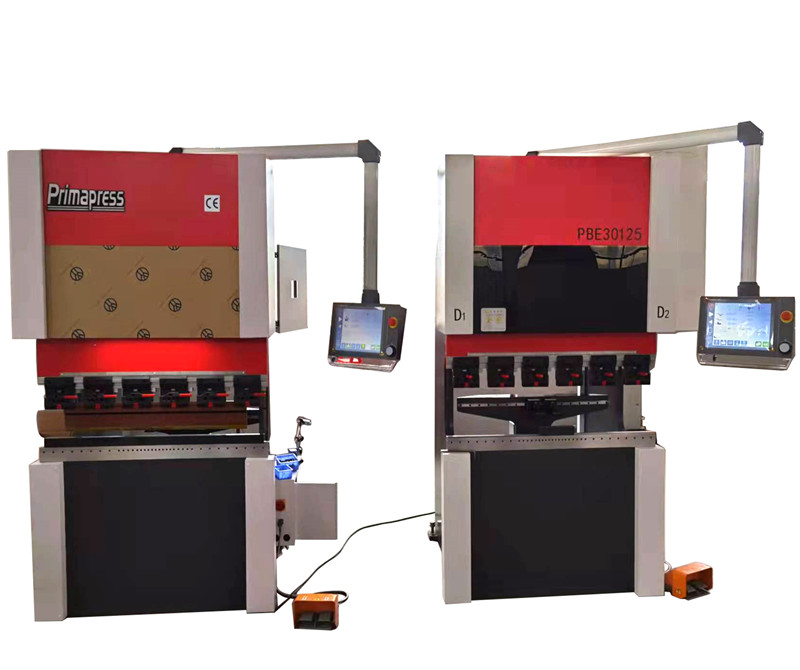 The Primapress ECO series is an all-electric transmission mode, and the servo motor drives the screw. It has the highest precision and the fastest processing efficiency among various series of bending machines. The patented software has good compatibility. The use is still accurate, different from the traditional bending machine that does not need oil, and the motor only runs when it is working, energy-saving, environmentally friendly and clean, and has better adaptability for customers who have higher requirements for the plant environment.
Output according to the actual tonnage, saving energy and electricity.
Pure electric does not need oil, environmental protection and cost saving, low noise, suitable for enterprises with high requirements in processing environment.
The efficiency is increased by 100%, the speed is fast, and the output is increased.
High precision, the repeatability of the fully closed-loop control slider is 0.01mm, and the repeatability of the rear gear is 0.05mm.
The actual tonnage output makes the machine more durable and does not damage the knife mold.
The software and hardware of the servo motor have good compatibility, the system is stable, and the machine does not stop all day.
All-steel welded structure, manganese steel material has a good rebound coefficient, and the stress is relieved by vibration demagnetization, tempering and sanding treatment, and the body is stable and durable.
Direct manufacturer, one-stop service, to solve customer's knife mold design, product, automation and other problems, the whole machine is guaranteed for three years.
CNC ECO full Electric Servo Bending Machine pure electrical servo cnc press brake machine Specification:
No
Name
Item
P30T
P20T
1
Force
T
30
20
2
Worktable
mm
1250
600
3
Column gap
mm
1070
570
4
Throat
mm
300
200
5
Stroke
mm
150
120
6
Open height
mm
430
420
7
Backgauge(optional)
mm
500
250

8

Stroke
Down
mm/s
200
200
Working
mm/s
1-30
1-30
Return
mm/s
200
200

9

Servo
Power
KW
7.5
7.5
Nos
Set
1
1
10
Control
Model
ECO-10ES
ECO-10ES
Axis
2
2
11
Size
L
mm
750
750
W
mm
1000
1000
H
mm
2100
2100
12
Weight
Kg
2500
1500
CNC ECO full Electric Servo Bending Machine pure electrical servo cnc press brake machine Main configuration list
| | | | |
| --- | --- | --- | --- |
| No | Name | Supplier | Remark |
| 1 | Servo motor | Easycat | |
| 2 | Linear guides | Easycat | |
| 3 | Ball screw | Hiwin Taiwan | |
| 4 | Electrics | Schneider | |
| 5 | Bearing shaft | Luoyang | |
| 6 | CNC system | ET 15 2D Touch screen | |