Description
CNC servo hydraulic turret punch machine cnc turret punching machine with index molds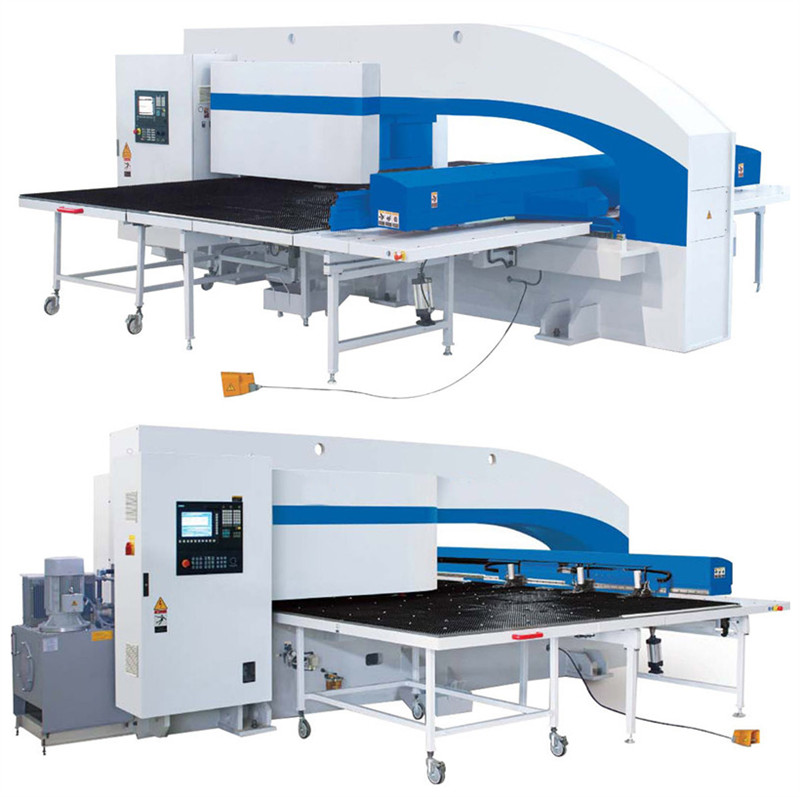 Servo CNC Servo Turret Punch press
Brief Introduction
Specifications
Nominal force                           KN           300
Workpiece size                          mm           1500*5000
Max workpiece weight                   Kg           156
Max workpiece thickness                  mm         6.35
5.Max punch diameter                      mm           Ф88.9
6.Number of stations                                     32
Working accuracy                      mm           ±0.1
Max. hit speed                         HPM          600
Workpiece traveling speed               m/min         106
Turret speed                      r/min          30
Frame construction                              Closed-type
Throat                           mm          1275
Number of control axis                           5 axes (X, Y, T, C)
Max rotary station punching diameter   mm         Ф50.8
Repeatability                    mm          0.02
Number of clamp                               2
Clamp type                                    Pneumatic type
Heat treatment of the frame                       Tempering
Tool type                                      Long guide sleeve type
(AMADA)
Turret construction                              Long bushing in the thin turret
Air pressure                         Mpa       0.6
Machine dimension (L*W*H)           mm       5300*5000*2200
Machine weight                      kg        18500
Machine Feature
Advanced and reliable Servodrive system can select stroke automatically corresponding to different thickness of metal sheet and is convenient to realize special process of louver, blanking, etc. The punch is equipped with auto Servooverload protection device, and guarantees consistent pressing force for quality products.
 The punch is of Germany Siemens0iP control system.
 Rotary tooling stations are of worm wheel structure with max. punching diameter of Ф50.8.
 Dual turret is of long insert structure ensuring coaxiality of the punch and die, which gives long life to the tool and turret.
 Imported pneumatic and Servocomponents guarantee reliability of the machine.
Imported ballscrews with long travel, and linear guideways ensure transmission precision.
The worktable with hard brush and steel ball reduces noise and shock of the machine, and protects surface of the work piece.
The machine is straight-side frame, which is annealed for eliminating inner stress.
The clamps with auto protection function, in the protective zone, only excise movement without punching action for continuous operation.
10.Central lubrication device provides lubricant oil to the desired points to reduce friction of pairing elements for long machine life.
12.Tool station layout consists of A、B、C、D, which is convenient for the customer and save the tool cost.
13.Common requirement is for site foundation preparation and machine installation is simple.