Description
door making machine pressing iron hydraulic press 2500 ton Steel Door Embossing Press Machine Metal Door Skin Press Machine Door Press Machine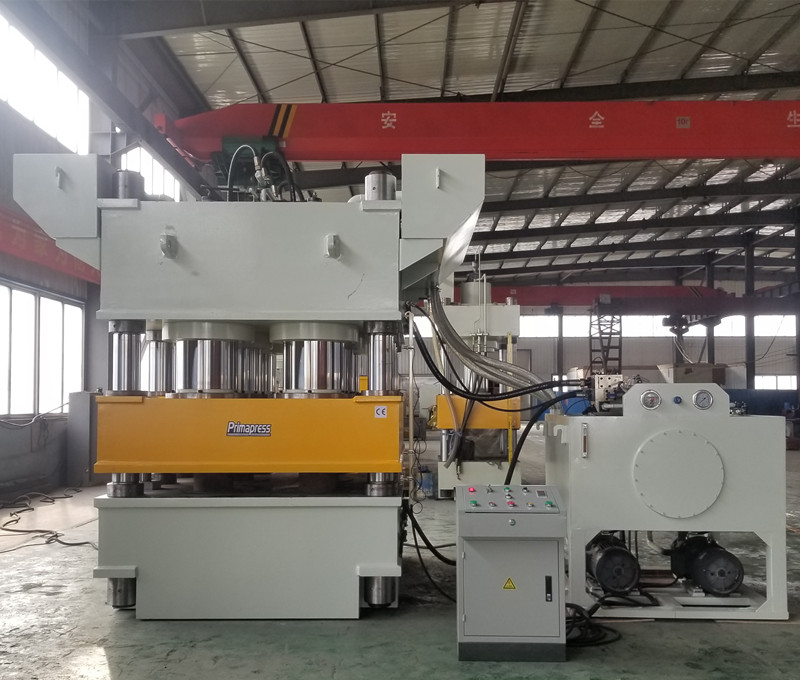 Video link:
Door Steel Embossing machine, steel door making machine
The machine use rod tightening combination frame structure, with sufficient strength and rigidity;
The slider uses rail guide; machine and slider are welded steel, the material is Q235-A, using carbon dioxide gas shielded arc welding, the weld should be ground smooth, no weld slag and
streaming scars, remove inner stress after weld. Columns guideway using high-quality materials, the guide portion after quenching hardness of HRC50 or more, good wear resistance.
Tope beam, worktable, left and right columns, sliders use Q235-A welded, remove inner stress after weld.
Solo cylinder structure which is disposed on the upper beam hole, cylinder block uses 45 # forged steel,
material uniformity. Plunger rod surface hardening hardness is HRC45-50. The cylinder finishing by high-precision machine tools, cylinder bore after refining process to increase surface hardness and wear resistance,
so that the cylinder block has a high surface hardness, wear resistance and long service life.
Master cylinder seal ring using imported materials, to ensure reliable sealing.
Hydraulic system consists of hydraulic station, control valves, piping, accessories. Hydraulic system
provides high-pressure oil pressure and control the host. Hydraulic system arranged in the right of machine.
(1)Hydraulic system adopts advanced cartridge valve integrated system, the valve big flow, anti-pollution, flexible control, reliable performance, easy maintenance. Pilot solenoid valves are made of
high quality products.
(2)Hydraulic system working pressure is 25MPa, the main valve should be two-way cartridge valves. Hydraulic system is with overload protection devices. Hydraulic piping system
design reasonable, piping arranged in an orderly and tidy, high and low pressure pipeline is obvious
color distinction.
Hydraulic piping system should be reliable sealing flange connection priority connections, piping
layout and tidy, and the use
of shock and vibration-resistant gauge pipe clamps, pipe phosphate processing, and then coated
with rust-resistant paint.
(3)How to work Fixed stroke and fixed pressure; hydraulic machine operation: adjust, single cycle,
jog on the mold and work with automatic feeding.
(4)Fuel tank is divided into two parts, oil zone and oil back zone. Tank is steel plate welded structure,
which is installed with the oil level gauge, air filter, etc., tank was after pickling, passivation and anti-rust treatment, with separate oil filtration devices, and enables filtering device blockage accident alarm.
Tank with oil level indication and oil level gauge (upper and lower) alarm device.
(5)Filling valve Description: filling valve is to provide the master cylinder to draw or drain oil.
(1)with a separate electrical cabinet, cabinet fitted with air switches, and other electrical appliances.
Power requirements 380V/50HZ, three-phase.
(2)on the presses of various alarm signals, limit switch and press action to achieve interlock program.
(3)a centralized control panel on the layout of buttons and a necessary operation selector switch.
(4)with a move button station.
(1)stationary and emergency stop button: When an exception occurs press the "stationary" button
presses all the work stopped; press "stop" buttons, including motors are stopped.
(2)wo-hand operation button: hands downlink synchronization time 0.5 ~ 1S.
(3)the hydraulic circuit supporting Insurance: To prevent uncontrolled downward slide in the master
cylinder piston hydraulic bearing inferior vena setting interlock circuit, to ensure safety. Set hydraulic
interlock circuit safety valve to ensure that the support is not open, not on the master cylinder pressure chamber.
(4)overload protection: hydraulic system with hydraulic safety valve to ensure the press not overloaded work.
Technical parameter:
Number
Item
Unit
Specifications
1
Nominal force
KN
25000
2
Max working pressure of liquid
MPa
25
3
Oil cylinder max stroke
mm
500
4
Max opening height
mm
600
5
Return force
kn
360
6
Work table effective area
L-R
mm
1500
F-B
mm
2500
7

Slider speed

Fast down
mm/s
45-50
Slow down
mm/s
8-12
Return
mm/s
45-50
8
Main motor power
KW
66