Description
Iron plate  Hydraulic Guillotine shear , Sheet metal Guillotine shearing machines
Video link:
Prima can supplier heavy duty guillotine shearing machine from 6-12m length, thickness from 1-60mm .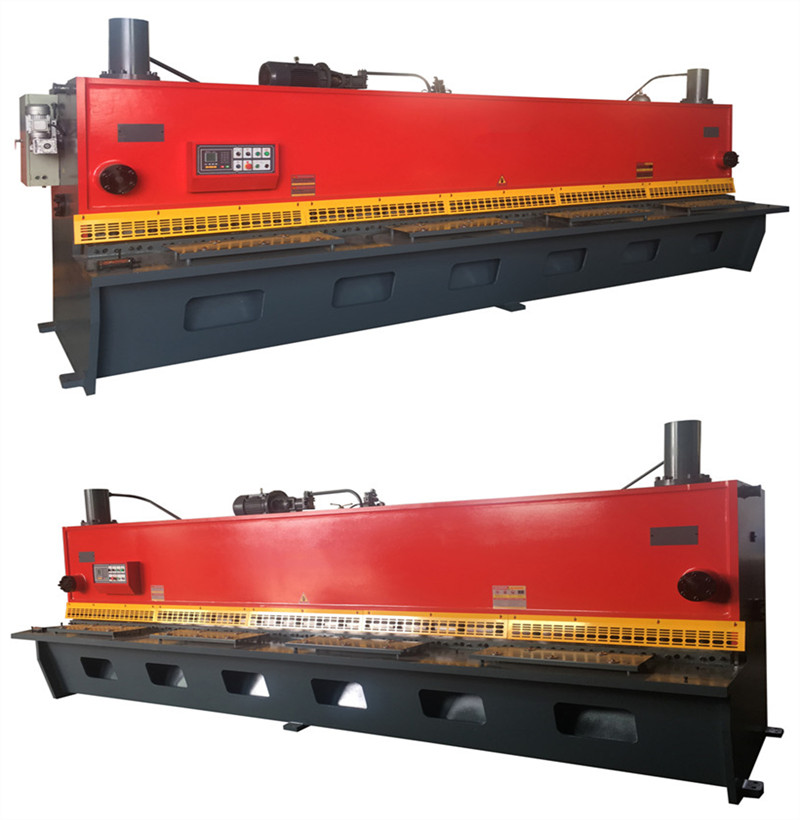 (1),Introduction of the hydraulic guillotine shearing machine:  
1,This machine adopts steel plate welding structure , have high strength and good durability.
2,The frame is entirely welded with steel plates,and treated to relive stress by tempering.
3,Hydraulic drive, return of knife beam is smooth and prompt by nitrogen cylinder.
4,The portable and prompt adjusment of the blades gap and the value of gap are indicated by digital, convenient and fast.
5, Equipped with lighting-alignment, so as to align when shearing. The stroke of knife beam can be adjusted in stepless mode.
6,Protection fence to ensure the operation safety.
7,Digital display device for size of back gauge and shearing times available.
8,The rectangular monoblock blades featuring long life with 4 cutting edges,quality high-carbon high-chrome blades D2 quality.
9, European key electrics and Hydraulic Valves Advanced integral hydraulic system with good reliablity-Imported from Germany.
(2),Standard Equipment: 
1,Estun E21s NC control System
2,Powered Back gaugeX-axis
3,DELTA Inverter controlled back gauge
4,HIWIN Ball screws & Polished rod with 0,05mm accuracy.
5,Squaring Arm and Front Support Arms
6,Germany Bosch-Rexroth Hydraulic
7,Germany EMB Tubing connector
8,Germany Siemens Main Motor
9,Tele mecanique/Schneider Electrics
10,Hydraulic &Electrical overload protection
11,Cutting Line Illumination and wire for shadow line cutting
12,Top blade with two cutting edges and bottom blade with four cutting edges.(6CrW2Si)
Features :
Hydraulic individual sheet material clamping system with nylon inserts to protect material from indentation from the clamping cylinders along full length of machine.
2. Simplified blade gap adjustments to allow for a wide range of material types
3. Transfer balls inserted into work table allowing material to be easily moved to the cut position and squaring arm.
No
Model
Max cut thickness

mm

Max cut length

mm

Ram Stroke

n/min

Cutting angle

°

Motor

kw

Machine Szie

mm

1
4×2500
4
2500
20-40
0.5-1.5
5.5
3100x1600x1700
2
4×3200
4
3200
20-40
0.5-1.5
7.5
3800x1800x1700
3
6×2500
6
2500
16-35
0.5-1.5
7.5
3150x1650x1700
4
6×3200
6
3200
14-35
0.5-1.5
7.5
3860x1810x1750
5
6×4000
6
4000
10-30
0.51.5
7.5
4630x2030x1940
6
6×5000
6
5000
10-30
0.5-1.5
11
5660x2050x1950
7
6×6000
6
6000
8-25
0.5-1.5
11
6680x2200x2500
8
8×2500
8
2500
14-30
0.5-1.5
11
3170x1700x1700
9
8×3200
8
3200
12-30
0.5-1.5
11
3870x1810x1780
10
8×4000
8
4000
10-25
0.5-1.5
11
4680x1900x1860
11
8×5000
8
5000
10-25
0.5-1.5
15
5680x2250x2200
12
8×6000
8
6000
8-20
0.5-1.5
15
6800x2350x2700
13
10×2500
10
2500
10-25
0.5-2.0
15
3270x1730x1800
14
10×3200
10
3200
9-25
0.5-2.0
15
3990x2250x2200
15
10×4000
10
4000
6-20
0.5-2.0
15
4720x2490x2500
16
10×5000
10
5000
7-20
0.5-2.0
22
5720x2600x2800
17
10×6000
10
6000
6-20
0.5-2.0
30
6720x2500x2550
18
12×2500
12
2500
10-25
0.5-2.0
15
3270x1730x1800
19
12×3200
12
3200
9-25
0.5-2.0
15
3990x2250x2200
20
12×4000
12
4000
6-20
0.5-2.0
15
4720x2490x2500
21
12×5000
12
5000
7-20
0.5-2.0
22
5720x2600x2800
22
12×6000
12
6000
6-20
0.5-2.0
30
6720x2500x2550
23
12×7000
12
7000
6-20
0.5-2.0
37
7800x2600x3200
24
12×8000
12
8000
6-20
0.5-2.0
45
9100x2800x3400
25
12×10000
12
10000
4-18
0.5-2.0
55
11100x3200x3900
26
12×12000
12
12000
4-18
0.5-2.0
2×37
13200x3950x4800
27
16×2500
16
2500
9-20
0.5-2.5
22
3320x2100x2200
28
16×3200
16
3200
8-20
0.5-2.5
22
4120x2150x2300
29
16×4000
16
4000
8-15
0.5-2.5
22
4760x1900x2560
30
16×5000
16
5000
7-15
0.5-2.5
30
5760x2200x2750
31
16×6000
16
6000
6-15
0.5-2.5
37
6880x2480x3000
32
16×8000
16
8000
5-15
0.5-2.5
55
9120x3000x3800
33
16×10000
16
10000
4-15
0.5-3.0
2×37
11200x3400x4000
34
16×12000
16
12000
3-12
0.5-3.0
2×45
13300x4300x5800
35
20×2500
20
2500
7-20
0.5-3.0
30
3300x2050x2440
36
20×3200
20
3200
6-20
0.5-3.0
30
4000x2160x2540
37
20×4000
20
4000
5-15
0.5-3.0
30
4930x2300x2710
38
20×5000
20
5000
4-15
0.5-3.0
55
5860x2400x3150
39
20×6000
20
6000
4-15
0.5-3.0
55
6100x2650x3375
40
20×8000
20
8000
4-15
1.0-2.5
2×37
9120x3400x3800
41
20×10000
20
10000
4-14
1.0-2.5
2×45
11200x4300x5800
42
20×12000
20
12000
3-12
1.0-2.5
2×55
13380x4500x6100
43
25×2500
25
2500
6-15
1.0-3.5
37
3300x2000x2650
44
25×3200
25
3200
5-15
1.0-3.5
37
3970x2100x2865
45
25×4000
25
4000
4-12
1.0-3.5
45
4780x2500x3150
46
25×5000
25
5000
4-12
1.5-3.5
55
6100x2880x3550
47
25×6000
25
6000
3-12
1.5-3.0
55
7200x3000x3850
48
25×8000
25
8000
3-12
1.5-3.0
2×37
9300x3500x4300
49
30×2500
30
2500
4-12
1.5-3.5
55
3500x2300x3200
50
30×3200
30
3200
4-12
1.5-3.5
55
4380x2600x3450
51
30×4000
30
4000
3-12
1.5-3.5
55
5300x3000x3600
52
30×6000
30
6000
3-12
1.5-3.0
2×37
7300x3800x4200
53
40×2500
40
2500
4-10
2.0-4.0
55
3900x2550x3500
54
40×3200
40
3200
3-10
2.0-4.0
55
4600x2900x3750
55
40×4000
40
4000
3-10
2.0-4.0
2×45
5380x3300x4200
56
50×2500
50
2500
3-10
2.0-4.0
2×55
4000x3300x4200
57
50×3200
50
3200
3-10
2.0-4.0
3×90
4700x3600x4500
58
60×3200
60
3200
2-8
2.0-4.0
4×90
4900x3800x4900
#direct shear test machine            #nc shearing machine for sale
#blade for shearing machine                 #shear machin cut blade
#shearing cut machine                      #cnc shearing machine