Description
JM31/JMD31series gantry type single point press with high performance
Video link: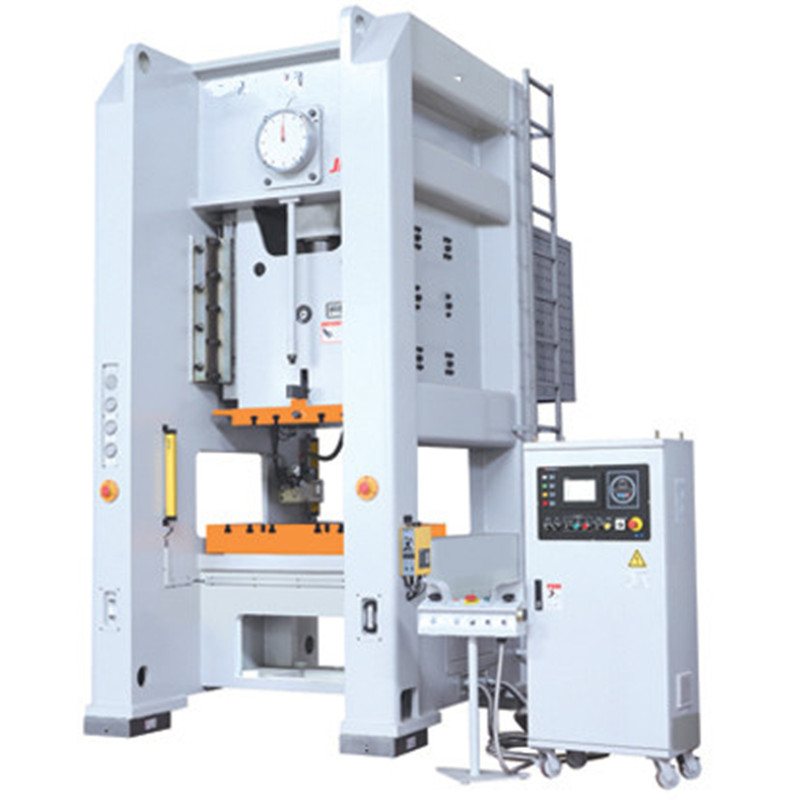 ◆    Welded Steel plate framework with high intensity of machine body.
◆    Dry type friction clutch and brake,wet  friction clutch and brake are optional for JM31-160~400 type.
◆    Equipped with hydraulic overload protecting device.
◆    Eight-side lengthened guide with high precision.
◆    Adopts electric shut height adjustment with digital display.
◆    Equipped with lifting balance cylinder.
◆    Duplex valves imported.
◆    Electric compelling grease lubrication system.
◆    Balancing cylinder adopts manual lubrication system.
◆    One set of blowing device.
◆    Controlled by PLC with international brand.
◆    Buttons, indicators, AC contactors, air circuit breakers and other controlling devices are imported from international brand.
◆    Electronic cam device with intelligent top dead center stop function and several safety function.
◆  Optional air cushion device, NC feeding machine, light curtain and inverter with international brand to fulfill stroke adjustment.
◆  JMD31 series equipped with multi pitmen framework, suitable for flat stretching. 
It is mainly for the high accuracy automatic punching line with progressiv die.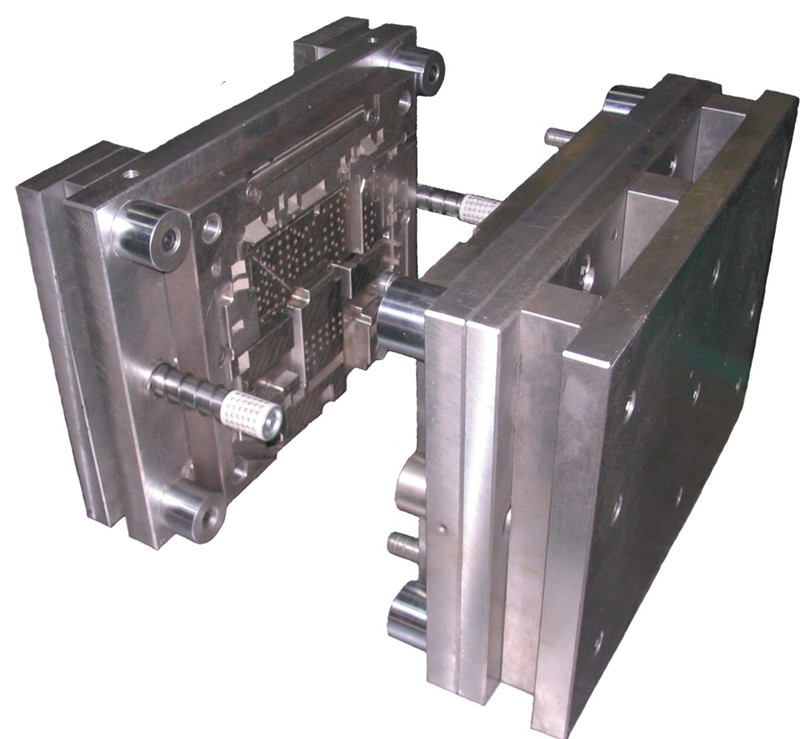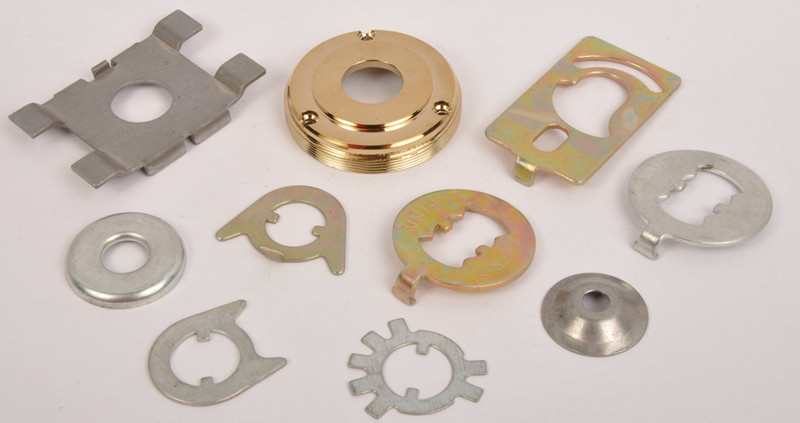 #punching machine hydraulic press                          # Pneumatic press Machine
#Press Machine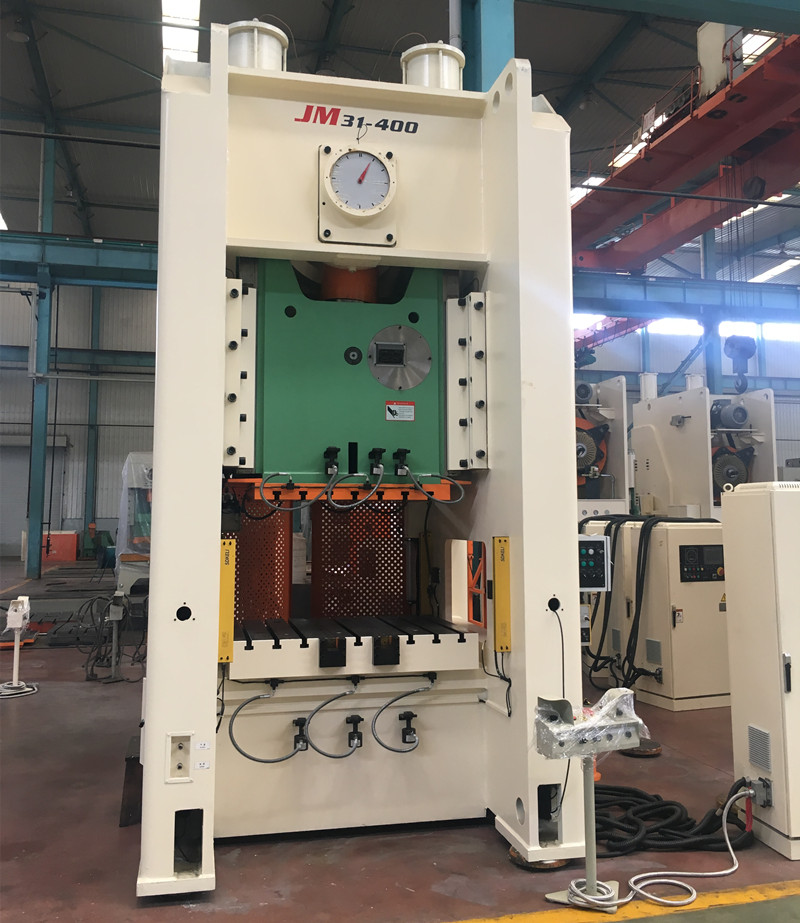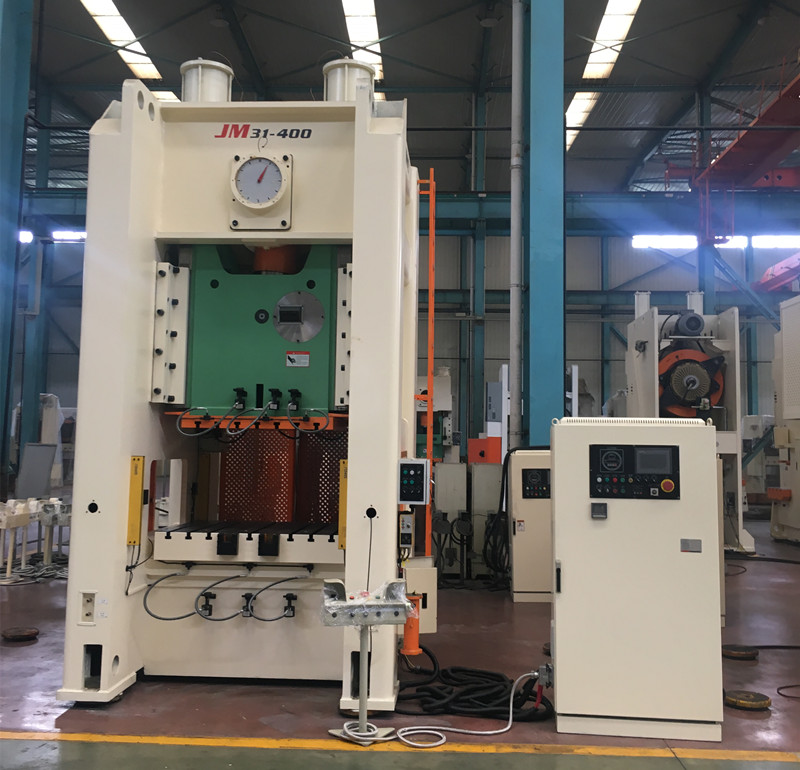 JM31-160

JMD31-160

JM31-200

JMD31-200

JM31-250

JMD31-250

JM31-315

JMD31-315

JM31-400

JM31-500

JM31-630

Capacity

kN

1600

2000

2500

3150

4000

5000

6300

Nominal Stroke

mm

6

6

8

8

10

10

10

Slide Stroke

mm

160

180

200

200

200

200

250

SPM

Fixed

min-1

40

35

30

30

25

20

18

Variable

35~50

30~40

25~35

25~35

20~30

/

/

Max. Die Height

mm

350

450

500

550

600

650

700

Die Height Adjustment

mm

110

110

120

120

120

120

120

Bolster (FB×LR)

mm

740×1050

760×1130

800×1200

850×1250

900×1350

1000×1500

1200×1700

Bolster Thickness

mm

150

160

170

170

180

190

200

Slide Area (FB×LR)

mm

650×800

650×850

700×900

750×950

1050

900×1200

1100×1450

Shank Hole (Dia.×Dpth)

mm

φ65×90

φ65×90

φ70×90

φ70×90

φ80×90

φ80×90

φ90×100

Between Columns

mm

1150

1200

1320

1370

1550

1700

1900

Side Opening (FB×H)

(Up Bolster)

mm

760×300

800×370

820×430

880×480

920×520

1020×600

1100×650

Between Up Bolster & Floor

mm

1020

1030

1050

1050

1050

1060

1050

Main Motor Power

kW

15

18.5

22

30

37

45

75

Cushion

(Option)

Qty.

1

1

1

1

1

1

1

Ejecting Force

kN

160

160

250

250

250

250

250

Ejecting Stroke

mm

80

80

80

80

80

80

80

Ejecting Area

mm

φ350

φ350

340×540

400×540

400×540

400×540

400×540

Outline Size (FB×LR×H)

mm

2480×1750×3500

2570×1810×3610

2950×2080×3850

3150×2200×4000

3430×2400×2410

3670×2580×4600

4150×2900×5200

Net Weight

kg

16500

19500

24000

29000

37000

48000

62500