Description
Steel Plate 6+1 Axis 100 Ton 3200 MM CNC Press Brake Bending Machine
Video link in Youtube: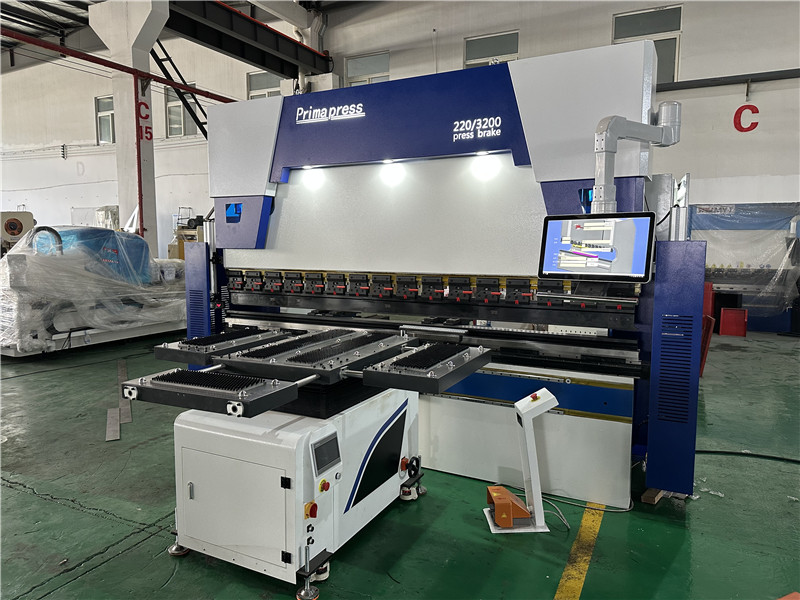 Main Performance:
1. The frame of machine is composed of tank, worktable, left and right housings and ram. So it has high strength and good rigidity. Also it takes vibration to eliminate stress.
2. Synchronization working principal of both machines:Adopting electric-hydraulic proportional valve to ensure the synchronization of both machines. The proportional valve is made by BOSCH company with very good performance such as small friction between mechanic action pairs, fine electronic amplifier and electric magnet with high controlling force and continuous action. There are two raster displayers on both sides of machine to inspect the position of ram continuously and feed back the signal to control system, then the control system will control electric-hydraulic valve to make two cylinders synchronization on one machine. Because the raster displayers are installed to "C" plates, not on housing plates directly, the deflection of ram and frame when working will not effect its measuring and controlling precision. When two machines working together, the differential potentiometer installed between two machines will transfer the mechanic synchronizing signal into electronic one and feed back to synchronization plate and control system. The signal will be enlarged by BOSCH amplifier to control the synchronization of both machines by controlling electric-hydraulic proportional valve. So the synchronization of two machines is achieved with high precision.
3. Through computer,the operator could communicate with machine. The computer has several service language, calculate and adjust the bending force automatically. Also it could calculate and control the dead point, speed changing point.The strokes (Y1, Y2) of ram could make a small tilt to meet the special requirement of user.
4. Equipped with good guiding system, position measuring system and hydraulic balance system to meet the requirements of full length job and eccentric job.
5. Worktable compensation unit is adopted to make up for deflection of machine when working to make sure the precision of work piece.
6. The surface of cylinder has good wearing and heat treatment, so it has good lubrication and long service life.
Main Feature:
1.Totallly EU standard design, monoblock by welding robots& apparatus and stress relief process by annealing treatment.
2. Primapress engineers utilize parametric 3D Slid works using FEM & DOE analysis as well as static and mechanical analysis.
3. Adopt integrated hydraulic system, more reliable and easy for maintenance and the hydraulic system from Bosch-Rexroth, Germany.
4..Mechanical synchronous mechanism and the complex compensation are designed so as to raise the workpieces precision.
5. The stroke and distance of the backgauge is adjustable by the motor and is well adjusted by hand, the adjustment is displayed by digital meters.
6. Inch, single, continuous operation mode being designed for the machine and reversing and maintain time cane be controlled by the time relays.
7. Safe fence and the electric interlocer have been designed for the machine to ensure the operation safety.
The Main Structure Character:
Welded steel plate, the frame consists of right and left wall boards, working table, oil box, slot steel and etc. The stress of the welded parts can be eliminated by vibration. The machine enjoys high accuracy and high strength and can be transported easily.
2. Advantages :
1. Electro-hydraulic servo system, closed loop control system controls accuracy.
2. The unique patented technology:bilateral deflection compensation of the large press brake.
3. Open width adjustable inserts die to meet a variety of workpieces.
4. A variety of auxiliary institutions could meet user's requirements and make the process more convenient and efficient.
5. Y1,Y2 Axis——Two raster displays installed at both sides of ram to control cylinders.
3. Production Introduction:
1. With stylish design, high rigidity, high speed
2. Electro-hydraulic servo system, closed loop control system controls accuracy
3. Worktable adopts hydraulic deflection compensation to ensure the accuracy of the workpiece
4. Back gauge is driven by servo motor, adopted ball-screw and linear guide way, it could make sure positioning accuracy.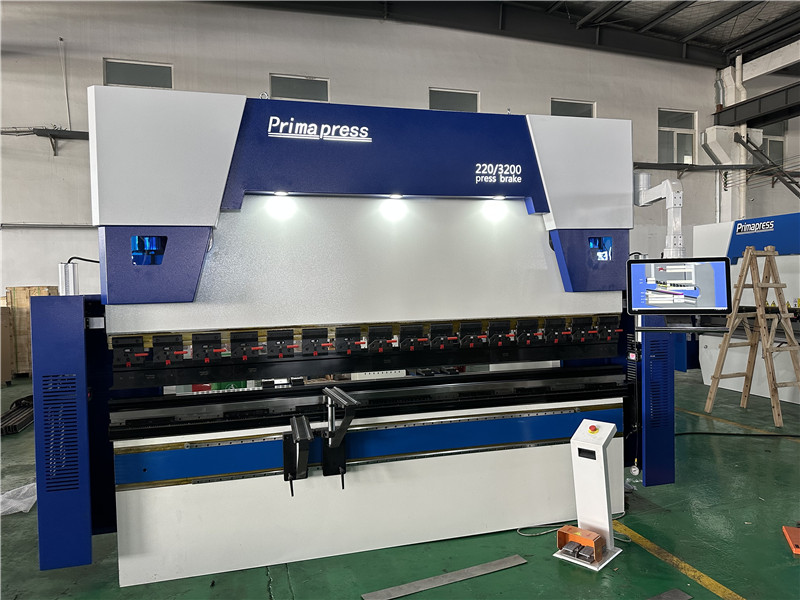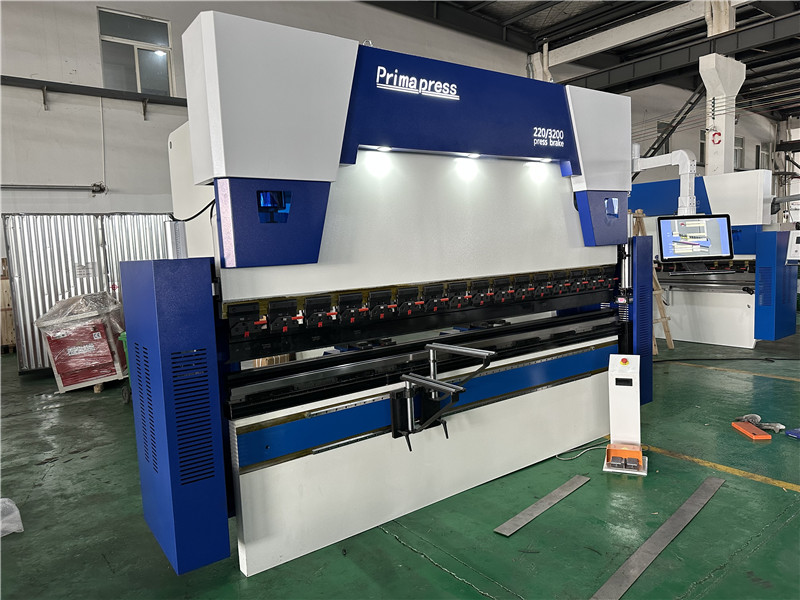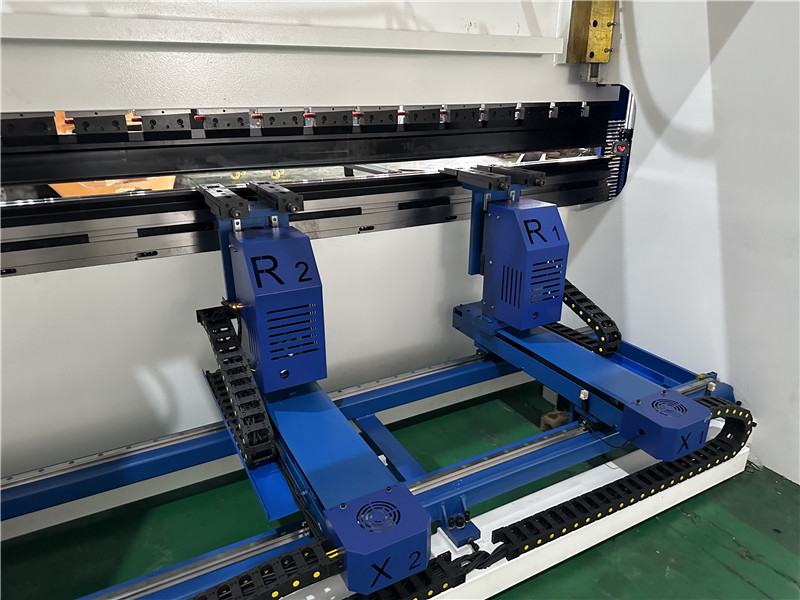 Specifications for CNC press Brake:
TECHNICAL FEATURES
1
Type
CNC Press Brake Machine 400 Ton
2
CNC Control Axis
Y1-Y2-X-R-axis & Crowning
3
Bending force
400 Ton
4
Bending length
6000 mm
5
Distance between columns
5050 mm
6
Gap
400 mm
7
Daylight Opening
400 mm
8
Beam
320 mm
9
Table height
880 mm
10
Table Width
250 mm
11
Fast Speed
80 mm/sec
12
Bending Speed
0~8 mm/sec
13
Return Speed
80 mm/sec
14
Back Gauge Stroke
750 mm
15
Motor Power
30 KW
16
Overall dimensions
6400×2100×3170 mm
17
Machine weight
38000 kg
18
Option 1
DELEM DA52S CNC SYSTEM
Option 2
DELEM DA66T CNC SYSTEM
Option 3
Additional axis: R (back gauge up and down)
#brake press tool           #brake press elettric
#harsle press brake          #press brake clamp
#promecam press brake tooling