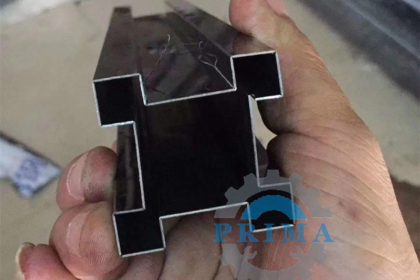 Stainless steel v cutting machines, cnc v groover machines
this machine is more and more popular in the market now , especially in the stainless steel fabricating industry.
Product Features
Advantages: conventional machine is clamps hold the sheet metal moving over the working table, so the sheet surface is very easy to be scratched. Now this machine's biggest advantage is sheet metal fixed, has no relative motion. the work piece is protected perfectly, especially for use in mirror stainless steel plates on decoration, and so that the machine has a high processing speed.
The machine adopts frame structure design and high strength bolted connection, with good overall rigidity and small deformation.
The beam of the machine is fixed and work is fed by feeding mechanism. Anvil of workbench can be debugged to guarantee that the flatness of working plane is within 0.003mm.
Tool carrier movement (left and right) adopts synchronous belt drive, with stable and efficient cutting process and flat and smooth cutting surface.
The machine adopts floor type numerical control post-feeding device, with high positioning precision, stable drive and large processing scope.