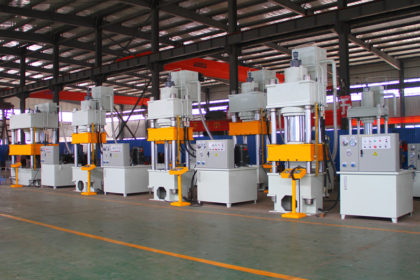 steel sheet hydraulic stamping machines/hydro press stamp machine/hydraulic forging press machine
Primapress got many orders for the hydraulic deep drawing press machine for metal fabrications.
as we know, Hydraulic press forming machine is very necessary machines in industrial use, which mainly used in sheet drawing  bending and forming.
it applicable to the following fields: 1.car body parts, brake piece, oil tank, chassis, bridge shell, bumper, 2. household electric appliance:
washing machine parts, electric rice cooker parts, refrigerator parts, etc.; 3.kitchen utensils: washing tank, pot of equipment, stainless steel utensils,
various other containers; 4. others: tractor, motorcycle, aerospace.. the following photos is one order to India.
the customer is making fire extinguisher ,so they buy 4 sets hydraulic press machine one time for this first production line.
they make the hydraulic press deep drawing mold by themselves in india, and if the first machine line works well,
they will buy more than 30 sets hydraulic pressing machine for their new factory. Primapress tested all the hydraulic presses machine before shipping.
we are confident on the machines quality.