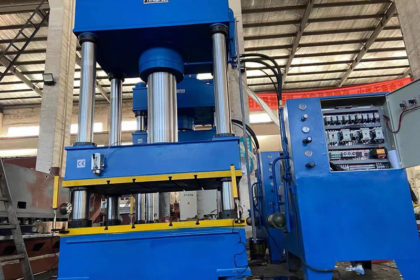 The main classification of hydraulic press and the characteristics of four-column hydraulic press
Hydraulic presses are mainly divided into four-column type, single-column type (C type), horizontal type, vertical frame, universal hydraulic press, etc. according to the structural form.
is mainly divided into metal forming, bending, stretching, punching, powder (metal, non-metal) forming, press fitting, extrusion, etc. according to use.
Hot Forging Hydraulic Press
Large forging hydraulic press is a forging equipment that can complete various free forging processes, and is one of the most widely used equipment in the forging industry. Common forging hydraulic presses are 800T, 1600T, 2000T, 2500T, 3150T, 4000T, 5000T and other series of specifications.
Four-column hydraulic press
This hydraulic press is suitable for the pressing process of plastic materials. Such as powder product molding, plastic product molding, cold (hot) extrusion metal molding, sheet stretching, and horizontal pressing, bending pressing, turning through, correction and other processes.
Four-column hydraulic press can be divided into four-column two-beam hydraulic press, four-column three-beam hydraulic press, four-column four-beam hydraulic press, etc.
Single-arm hydraulic press (single-column hydraulic press)
The working range can be expanded, the three-sided space is used, the stroke of the hydraulic cylinder is lengthened (optional), the maximum retractable is 260mm-800mm, and the working pressure can be preset; the heat dissipation device of the hydraulic system.
Gantry hydraulic press
The machine parts can be assembled, disassembled, straightened, calendered, stretched, bent, punched, etc., realizing one machine with multiple functions. The worktable of the machine can move up and down, and the size has expanded the opening and closing height of the machine, making it more convenient to use.
Double column hydraulic press
The product is suitable for pressing, bending and shaping, embossing, flanging, punching and shallow drawing of small parts of various parts; forming of metal powder products and other processing techniques. It adopts electric control, is equipped with inching and semi-automatic circulation, can hold pressure and delay time, and has good sliding block guidance, convenient operation, easy maintenance, economical and durable. According to the needs of users, functions such as thermal instrument, ejector cylinder, stroke digital display, and counting can be added.
What are the characteristics of the four-column hydraulic press?
The hydraulic transmission system of the four-column hydraulic press is composed of power mechanism, control mechanism, executive mechanism, auxiliary mechanism and working medium. The power mechanism usually uses an oil pump as the power mechanism, generally an integral oil pump. In order to meet the requirements of the moving speed of the actuator, choose one oil pump or multiple oil pumps. Low pressure gear pump (oil pressure less than 2.5MP); medium pressure vane pump (oil pressure less than 6.3MP); high pressure piston pump (oil pressure less than 32.0 MPa). The pressure processing and forming of various plastic materials, such as the extrusion, bending and stretching of stainless steel plates, and the cold forming of metal parts, can also be used to press powder products, grinding wheels, bakelite and thermosetting resin products.
The four-column hydraulic press has an independent power mechanism and electrical system. It adopts button centralized control and can realize three working modes: adjustment, manual and semi-automatic: the working pressure and pressure speed of the machine. The stroke and speed of no-load rapid decline and deceleration can be adjusted according to the process requirements. Range, complete the ejection process. The constant pressure forming process can be divided into three methods of constant pressure and constant stroke. The constant pressure forming process has the delay of pushing out and the automatic return stroke after pressing.
Independent power mechanism and electrical system, with button centralized control, can complete the adjustment and semi-automatic operation method. Its mobile operating platform is driven by a frequency conversion controller, and the electrical equipment is the world's leading PLC programmable controller, which is beneficial to improve the automation of this series of hydraulic presses, increase the output power, and reduce the labor intensity of the operators.
Using liquid as the energy transfer medium, using advanced mother cylinder hydraulic circuit, low oil temperature, idling speed greater than 10 mm/sec, working speed less than 20 mm/sec, equipment standby, noise when sliding up and down is less than 75 decibels.
The vertical accuracy of the movable plate is controlled by four precision guide sleeves. The parallel accuracy of the upper and lower working surfaces is less than 0.08 mm.