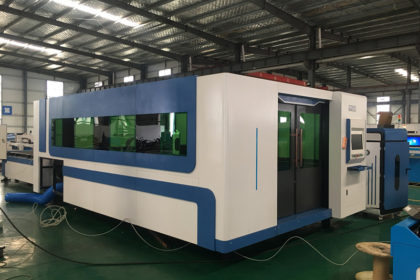 The Way fiber Laser cutting machine Technology Leads to Environmental Protection and Energy Saving
As one of the most promising new technologies in the 21st century, laser technology plays an important role in purifying the environment
we survive on. The emergence and application of laser is regarded as the third leap in human use of tools. As a brand new method of using energy,
we regard laser processing as a"common processing method for future manufacturing system". Under the global theme of energy conservation,
environmental protection and new energy utilization, how can we create a green road ? It might depends on fiber laser technology!
Compared with traditional processing and other lasers, fiber laser has a good gene of "environmental protection", which includes:
In comparison with other lasers, fiber lasers have higher efficiency in electro-optical conversion efficiency: it can reach to 30%, while YAG lasers 3%, CO2 lasers 10%.
Gain media in conventional lasers typically must be water cooled. Fiber lasers use optical fibers as gain media and have a large surface area to volume ratio,
which makes a good heat dissipation. Meanwhile, the closed all-fiber structure ensures the stability of laser cavity. Due to these unique characteristics,
the requirements of cooling is greatly reduced. Low power fiber lasers only need air-cooling, which replaces the water cooling requirements necessary
for conventional lasers, thereby saving electricity and water.
It is precisely because of the higher electro-optical conversion efficiency of fiber lasers that operating costs are also reduced. The whole laser cavity is made up
of soft fiber by welding. It's a closed cavity without any optic lenses. It can be used after start – up , with the advantages of high stability and no need to adjust.
Its interval time of repair is a half longer than CO2 lasers, but 50% lower in costs. Using fiber lasers will greatly save maintenance expense and time,
raise working efficiency to save costs.
With the continuous breakthrough of fiber laser technology, its application has been rapidly popularized. Its energy saving, environmental protection,
high efficiency and easy combination of robots and intelligent control are all in line with China's demand for future manufacturing. In order to
meet the needs of the transformation and upgrading in manufacturing industry, laser technology will lead to enter the direction of high efficiency,
energy saving, environmental protection and intelligence.
Our company specializes in sheet metal machine by Primapress brand like : 
CNC Fiber laser cutting machine, presses machines,  shearing machine, CNC bending machine, v cutting machines, 
all kinds of hydraulic machine, ironworker, rolling machine and other metal forming forging equipment .