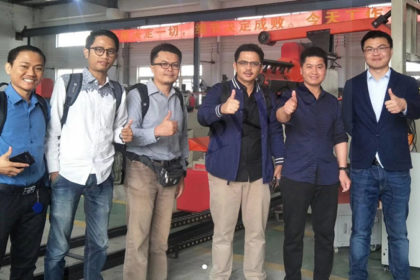 Uncoiler straighter NC Feeder punching machine
Prima supply many sets of Uncoiler straighter NC Feeder punching machine. but this is a great samples that we must share it.
in the date of 25th, March, we are very pleased to have meeting with Mr Nadirman and Mr Hengki and his teammates .
they are automation company in indonesia . and they come to priam for one big projects like the following 3D drawings.
it is confirmed by the buyer already, we have discussed this issue nearly 3 months to confirm every points.
from the drawing, you can see, it have the big 1500mm uncoiler, Straighter , shearing machine,  Up lifter , and punching machine, rolling machine and so on.
it is to make the tank automatically. they finally sign the contract and pay the deposits to Prima company.
it is no wonder a big tast for prima. prima team will finally do a good job for them.
also , we showed them around the beautiful and cultural Nanjing city.