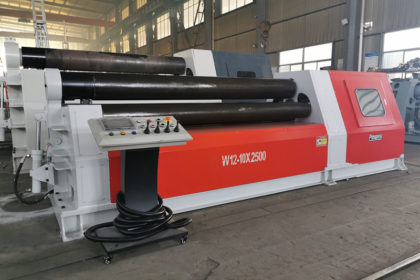 W12 four roller plate bending machine 4 rolls plate rolling machine operation attentions
Machine Main Applications and Usage Scope
Primapress sheet metal   W12 four roller plate bending machine is produced for metallic plate bending and emendation, which specially suits for metallic plate figuration work.
Canister, arc and etc. workpieces can be bent after one feeding, besides, extensive emendation is also available.
W12 four roller plate bending machine is widely used in shipbuilding, boiler, avigation, bridge, hydroelectricity, chemical industry,
metal structure, and machinery producing industry.  nowdays, 4 Rolls plate rolling machine is latest rolling machine equipment .
here we would like to share some points when you operate the four rolls plate rolling machine.
The machine is four roller plate bending machine, its structure shown as drawing 1, upper roller as initiative  roller, down roller and side rollers
as driven rollers; upper roller is fixed, down roller does up and down movement; upper roller is mechanical initiative, while down roller and side
rollers are driven by friction from plate and rollers. Down roller and side rollers are driven by hydraulic oil tank to do lifting movement.
Upper roller's ventro-bearing overturn and reset are also driven by hydraulic oil tank. Rollers' bearing and oil tank are installed on left and right side of machine frame.
Operation attention
Please check if the sound of the oil pump is normal when start the machine.
When aligning,the plate need not clamp too tight,only need to touch it.After alignment,rising the bottom roller to clamp the plate tight.
The rising amount should decline 0.5-1.0mm compare with alignment.
Don't make the overlap plate go through the top and bottom roller,it's possible to brake the rolls.
When you need to weld the work piece in the machine,please shut off the power and ground line of the welding machine must put on the
work piece but not on the plate bending machine.Or it will damage the machine
Check if there's loose of the bolts timely,especially for hydraulic motor and the connection of the top shaft.
After welding,the height of welding gap must not up to 1mm.