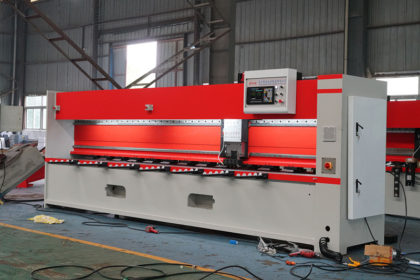 What is V Groove and why v groover machine is necessary in bending industry
The V grooving machine is the new type of sheet metal processing machinery, which is the key equipment of V cut bending technology. Primapress, as the top 1
v groover machine manufacturer from China, now we have gantry type cnc v groover machine , vertical metal v grooving machine and double head v groover machine
and other machines only in v groove bending machine.
without v groove work, the bending sheet metal work will not be like this, it will have a big round side ,
so the bending is not accurate and straight, but with this cnc v groover machine, you can make different metal profiles.
has high-quality sheet metal grooving machine and professional V grooving technology. In this article, we will introduce relevant knowledge of the V groove.
Definition
Sheet metal V-grooving for bending is a method of establishing the bend line and bend angle using grooves cut along the bend line. It's also known as score-folding,
V-cutting, and back-scoring. It is an auxiliary process for the bending of metal or non-metallic materials. V-grooving works best in (but is not limited to) material thicknesses
from 0.031 to 0.236 in. It works with ferrous and nonferrous metals and other materials, including plastics, aluminum, composite plate, brass, bronze, copper, gold,
silver, zinc, PVD-coated colored stainless steel, various stainless steel grades, and mild steel.
The advantages of the V groove
V-grooving thins the material and reduces in the bend radius.
Bending with V-grooving also reduces the straightness deviations of the radius edge on long and narrow pieces.
Using V grooving technology can produce crisp, clean, and consistent bend dimensions and angles.
V-grooving also will improve notch accuracy and the look of the finished part.
The application of  the V groove
The V grooving technology works well for architectural fabrications. It can make decorative surfaces easy to manufacture for projects such as bank lobbies,
hotels, airports, restaurants, shopping malls, and even kitchen equipment where finish and overall look are the primary goals. Manufacturers of
sheet metal parts for decorative architectural panels, wall systems, and other aesthetic components often use V-grooving to produce sharp corners in
panels that, once interlocked and mounted, give the appearance of being a seamless unit.
V groove creates decorative grooves and channels.
V grooving technology can help create architectural shadow gaps.
V groove allows for sharp bends.
V grooving technology forms profiles that have the appearance of solid or extruded material.
The above is a relevant introduction to the V groove. After reading the above content, you must have added some new understanding to the V groove.
Primapress has always adhered to the advanced European design concept and takes the customer first as its esteem. Following the technology of the
Belgian R&D center, combined with the actual needs of customers, a high-quality v grooving machine with reasonable structure is manufactured.
If you have any needs, please contact us!