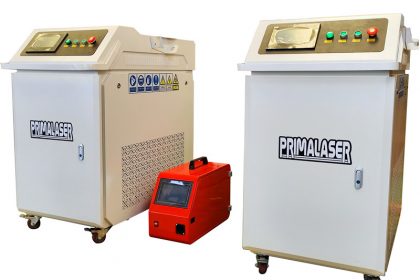 Why handheld metal fiber laser welding machines are becoming more and more popular
In recent years, metal fiber laser processing technology has spread rapidly, and advanced technologies such as metal fiber laser marking, metal fiber laser cutting, metal fiber laser welding, and metal fiber laser cleaning have developed rapidly. Metal fiber laser technology has promoted the renewal of traditional processing technology and industrial upgrading. Metal fiber laser processing technology can be widely used in various industries such as automobile manufacturing, rail passenger cars, construction machinery, agricultural machinery, cabinets, office furniture, fitness equipment, elevators and so on. With the popularity of metal fiber laser cutting machines, the precision of sheet metal cutting and blanking is getting higher and higher, which also creates conditions for the application of metal fiber laser welding technology. Many sheet metal processing companies have begun to consider using metal fiber laser welding technology to improve welding accuracy and aesthetics.
Welding process upgrade of handheld metal fiber laser welding machine
At present, most companies in the sheet metal industry still use traditional welding methods such as argon arc welding in the production and processing process, which have disadvantages such as low efficiency, poor appearance, and high cost of use. They are extensive welding methods with high energy consumption. The advantages of metal fiber laser welding technology are: thin plate welding speed is 2-5 times that of traditional argon arc welding, which can effectively reduce labor costs; the beam quality is good, the welding effect is good, the weld bead is well formed, strong and beautiful, and there is almost no need for subsequent polishing; Low operating cost, energy saving and environmental protection. In the field of thin plate processing, the use of metal fiber laser welding methods to replace traditional electric welding methods is a general trend.
In order to meet the needs of high precision, high efficiency and beautiful appearance in the field of thin plate welding, Han's Tiancheng used its core advantages in the development and production of metal fiber lasers and its years of industry technical experience in the field of metal fiber laser welding. In 2019, it launched a handheld metal fiber laser in time. The main power of the welding machine is: 1000W, 1500W, 2000W. Primafiber laser is constantly developing and upgrading the metal fiber laser welding process, insisting on taking the customer as the center and serving customers well. To
Primapress handheld metal fiber laser welding machine, compact structure, small size, convenient to move between different stations, convenient transportation; integrated design, optical fiber transmission, simple operation, flexible and convenient, quick learning and manual, can realize indoor or outdoor welding operations ; It can realize the metal fiber laser welding of any part and any angle of the sheet metal workpiece. It has obvious advantages in the field of sheet metal welding. It is suitable for the welding of small batches and multiple varieties of sheet metal and hardware. It has the advantages of fast welding speed, high efficiency, and good forming.
Main application industries: kitchenware, chassis cabinets, automobile manufacturing, elevators, stairs, metal furniture, fitness equipment, hardware products, etc.
handheld metal fiber laser welding machine