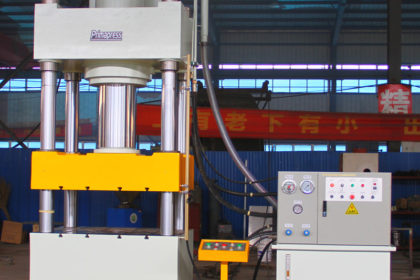 Y32 Series 315ton 300ton Four-column Guide Molding Hydraulic Press machine 315ton
Primapress brand four column hydraulic press has two kinds of electrical control systems, relay control and PLC control.
It has three operation modes: adjusting, manual and semi-automatic. It can realize two process modes of constant pressure and programming.
In constant pressure forming, there are holding delay and automatic return action after pressing. Ejection device is installed in the middle of the worktable.
Besides ejection products, it can also be used as a hydraulic forming process for back stretching parts. Its working pressure and stroke can be adjusted
within the prescribed range according to the process requirements. the following photos is two 315ton hydraulic press machine exported to Iraq .
the first one is 315ton 4 columns hydraulic press machine with 1.2x1m worktable.
the second is Y32 315Ton four columns hydraulic press machine with 1x1m worktable.
Now some punching machine are being replaced, but the deep drawing hydraulic press machine can not be fully replaced.
because it can do the straighting , deep drawing and forming works . and primapress spend a lot of time and wisdom in the development for
hydraulic deep drawing machine, technology is the first key to win more and more customers.