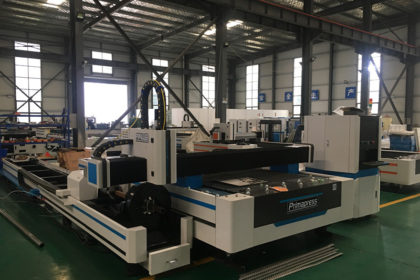 Advantages and Characteristics of Plate and Tube Dual purpose Metal fiber Laser Cutting Machine
Nowadays, all kinds of pipes and profiles are widely used in all walks of life and are closely related to everyone's life. For example, furniture, lamps and other industries. With the growing market demand, the processing market of pipes and profiles… Now, all kinds of pipes and profiles are widely used in all walks of life and are closely related to everyone's life and are everywhere. For example, furniture, lamps and other industries, with the growing market demand, The processing market of pipes and profiles is also growing. The traditional processing method can no longer meet the market requirements of rapid development and low-cost production mode.
The tube sheet dual-use machine is a professional equipment for cutting tube sheets and plates. It has more advantages than other equipment in cutting tube sheets. No matter how shaped tube sheets are, it can cut. It is a high-tech product integrating numerical control technology, Metal fiber Laser Cutting and precision machinery. With professional, high-speed, high-precision, efficient, cost-effective and other characteristics, it is the preferred equipment in the non-contact metal pipe processing industry.
Traditional pipe processing requires several processes, such as cutting, blanking and bending, which consume a large number of molds. The Metal fiber Laser Cutting of pipes not only has fewer processes and high efficiency, but also can produce better quality workpieces. There is no need for casting, saving costs, visual layout, close fitting, and material saving.
Advantages of plate and tube dual-use Metal fiber Laser Cutting machine:
High precision: The traditional pipe cutting adopts manual method, so each cut part is different. The laser processing adopts the same set of fixture system, and the processing design is completed by programming software, and multi-step processing is completed at one time, with high precision. In the modern manufacturing industry, precision is very important. Laser processing and molding make each part have the same size;
Batch processing: the standard pipe length is 6 meters, and the traditional processing method requires very heavy clamping, while laser processing can easily complete the clamping and positioning of several meters of pipe, which makes batch processing possible;
Flexibility: Laser can flexibly process various shapes, and designers can carry out complex design, which is unimaginable under traditional processing methods;
After years of R&D and innovation, Zhouxiang Laser has developed and produced laser equipment with good beam quality, stable performance and high cost performance. Zhouxiang tube plate all-in-one machine, which can save you worry, time and labor.
Now laser tube cutting has been widely used in the processing industry, and this processing method is a popular processing in the processing industry. The optical fiber laser pipe cutting machine can not only provide the cutting function of the traditional saw blade pipe cutting machine for stainless steel pipes, but also carry out various artistic processing for metal pipes, such as cutting a variety of patterns of different shapes on the surface of pipes, cutting arcs and bevels on the relevant surfaces of pipes; Pipe tapping and other functions are favored by the majority of pipe processing users.
Since the pipe fittings processed by optical fiber laser pipe cutting machine are so popular, what advantages does it have compared with other processing methods?
First of all, the optical fiber laser tube cutting and machining mode is advanced. After focusing with high efficiency, the extremely thin laser beam is like a cutter, which can cut metal materials at any fine level, so it will not damage the shape of the processed articles. The beam size after laser focusing is very thin, the heat affected area is small, and it is not easy to deform. The cutting seam is flat, beautiful, no subsequent treatment is required, and the processing is fine. Therefore, some processes that cannot be realized by conventional methods can be completed.
Secondly, the fiber laser pipe cutting machine is low in cost, fully automatic and easy to operate
Fast laser processing speed
The "cutter" used by the Metal fiber Laser Cuttingmachine is the light spot after focusing, and it does not need to add other equipment and materials. As long as the laser can work normally, it can be processed continuously for a long time
Laser processing is automatically controlled by computer, and no manual intervention is required during production
Thirdly, the optical fiber laser pipe cutting machine can realize zero overstock of pipe fittings. Laser processing is flexible and easy to change. For orders from different customers, just draw a processing map on the computer, and the products can be produced immediately. This saves the cost of conventional mold opening, effectively avoids the differential production of the same product, and reduces the risk of product overstock.
In pipe processing, no machine has such full functions. Therefore, among current pipe cutting equipment, fiber laser pipe cutting machine is a better choice for pipe processing!
Disclaimer: This article is reproduced online, and the copyright belongs to the original author. However, due to the large number of reprints, it is impossible to confirm the true original author, so only the source of reprints is indicated. Please contact us if the copyright of the work is involved, and we will confirm the copyright according to the copyright proof materials provided by you and pay the remuneration or delete the content according to the national standard! The content of this article is the opinion of the original author, which does not mean that this public account agrees with its opinion and is responsible for its authenticity.