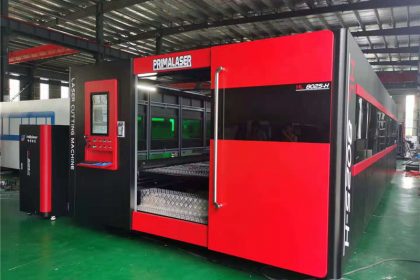 Application and Market of Bevel metal plate high power fiber Laser Cutting Machine
In the manufacturing process, many parts and components will have a certain angle bevel processing due to the design structure, which is indispensable in automobile manufacturing, industrial and agricultural machinery and ships. The groove processing is mainly for the next welding process. The grooves of a certain geometric shape are processed and assembled at the to-be-welded part of the weldment, and the weld seam with full penetration of the welding thickness can be obtained.
The groove processing mostly adopts flame, plasma and other processing methods. Common groove forms include V-shaped groove, U-shaped groove, X-shaped groove and Y-shaped groove. These processing methods will produce deep cuts when cutting grooves, and if they are not eliminated before welding, it is easy to cause the grooves to not be fused. Generally, such dents must be treated if they exceed 3mm. In important positions, they can only be eliminated by grinding, and repair welding is not allowed. Follow-up processing is very troublesome when there are defects. At the same time, flame and plasma processing are high-heat processing, and the metal sheet is prone to thermal deformation. After the groove is processed, it is necessary to perform an inverse deformation process, which is another major difficulty.
Laser processing is a new type of groove processing method with the smallest thermal deformation and the best incision quality. The laser groove cutting machine can process steel plates within 20mm, and can complete V, X, Y and other forms of grooves at one time. Compared with traditional flame, Plasma bevel processing and laser bevel cutting greatly improve the processing efficiency, ensure the quality of the bevel, and save materials. For example, laser bevel cutting is used in shipbuilding to process T-shaped members of low-alloy steel, which can greatly reduce the weight while ensuring the stability of the ship.
With the advancement of major projects such as railway construction, highway construction, water conservancy construction, hydropower construction, energy, mine construction, and construction industry in China, the demand for my country's construction machinery market has increased year by year, and beveling metal plate high power fiber Laser Cutting Machines have been widely used in my country's construction machinery industry. application. Especially with the large-scale construction machinery, it is necessary to adopt a higher strength low alloy and high strength steel structure. In order to ensure that the welded joint has good toughness, the welding heat must be reasonably controlled to avoid the embrittlement of the welded joint. The traditional thermal processing method It has been unable to adapt to the current forming of high-strength steel plates, and the introduction of laser bevel cutting machines in the construction machinery industry is a suitable choice.
In the process of sheet metal processing, many sheet metal parts need to be welded after cutting, but it is difficult to weld the vertical cut surface, and it is necessary to cut another groove to ensure the welding is firm. The beveling cutting technology developed by the leading laser can directly cut bevels of different degrees at the critical edge when facing sheet metal materials that need to be used for welding, which is equivalent to reducing one process and greatly saving time and labor costs. At present, laser bevel cutting is mainly used in shipbuilding, construction machinery and other large machinery manufacturing industries.
Bevel cutting is to add two rotating shafts to the conventional laser cutting head, so as to achieve the effect of cutting metal plate bevels. The bevel can be cut 1°-45° normally, and the shape can be V bevel, Y bevel and The cutting process of the X groove.
Please watch the video demo:
Cutting samples: