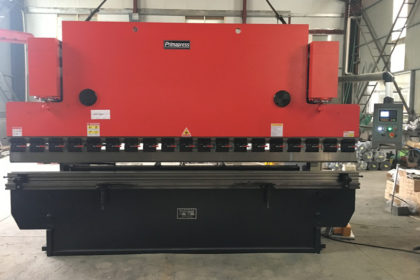 Hydraulic press brake bending machine in addition to the price, what is also important?
Sheet metal Press brake Bending machine which on the one hand, the knowledge content of many, and it is an important product, so learning and understanding of it cannot careless,
so under this requirement, we will continue to introduce the product below, but not its price and choice of these two aspects, but introduces
one kind of types, for hydraulic bending machine, mainly on some of its infrastructure, hope to be of help and inspiration, so that they can
know more about this kind of bending machine.
Hydraulic press brake bending machine, it is a kind of bending machine is more commonly used, it is mainly composed of the body, torsion shaft,
slider, stroke adjustment, front carrier, rear baffle frame, mold, hydraulic system and electrical system, its main performance characteristics are:
(1) its structure is simple and compact, with good rigidity.
(2) the mechanical block can be adjusted at will, so it can meet the requirements of free bending.Also, you can control the length of the slider.
(3) a precision compensation mechanism is installed on the grinding tool, so that higher bending precision can be obtained.
(4) easy to achieve automatic operation, and there are some protective devices on the machine to ensure the safety of operation.
Operating specifications of hydraulic bending machine, the main contents are:
(1) before using the bending machine, should carefully read the relevant instructions, so as to avoid blind operation and damage the machine equipment.
(2) if it is operated by multiple people, make sure there are no unsafe factors before stepping the foot switch to ensure safety.
(3) the gap between the upper and lower molds should be even and reasonable, the pressure should be adjusted properly, and the bending machine should be kept clean and tidy.