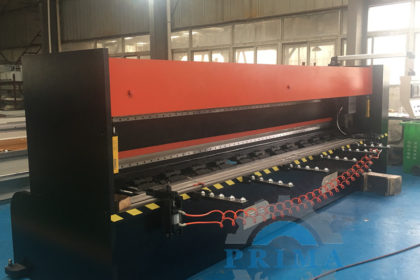 The numerical control system of the Primapress CNC grooving machine mainly controls the depth of the
V-groove and the interval between the V-grooves. In order to meet the needs of different users,
we have selected the corresponding function modules of DIAS and built a numerical control
system that can meet the needs of users of all grades.
——The man-machine interface uses DIAS's general-purpose intelligent terminal.
The control CPU is directly integrated inside, which can effectively reduce the space occupation in the electrical cabinet.
The final control panel has thin film pressing keys and data wheels, and the CNC grooving machine is extremely easy to operate.
The 5.7 "LCD color display is backlit. The user can perform parameterized input programming
through the full Chinese menu on the screen and the man-machine dialogue programming interface,
and the graphics show the working conditions in real time.
The main part of the CNC grooving machine is a slotting knife, which consists of an upper knife and a lower knife.
There are two types of common upper knife: arc-shaped knife and arc-shaped serrated knife.
Semicircular groove wide retaining ring. The service life of the slotting knife depends on
whether the quality of the slotting of the cardboard meets product standards. Grooving quality generally decreases
with the wear of the cutting edge of the tool, which can cause burrs, burrs, chipping, and waste.
When the product does not meet the standard, the slotting knife needs to be replaced.