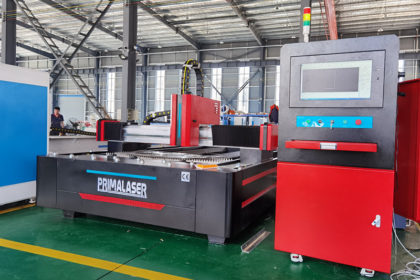 Cutting Speed and Effect of Fiber Laser Cutting Machines and CO2 Fiber laser cutting machine
Cutting Speed and Effect of Fiber Laser Cutting Machines
Nowadays there are mainly 3 types of laser cutting machines in the market, they are CO2 laser cutting machine,
YAG laser cutting machine, and fiber laser cutting machine. They have their own production characteristics respectively, and let us talk about that from different perspectives.
Cutting Speed and Effect
The cutting speed of fiber laser can be 3 times as fast as CO2 laser with the same power. The speed advantage is especially obvious in metal sheet cutting.
Fiber laser can also offer desirable cutting quality and smooth cut surface.
Energy Consumption and Overall Cost
Photoelectric conversion rate of fiber laser can reach 30%, CO2 laser with the same power can only reach 10%-15%, and YAG 3%.
Besides, electricity consumption of fiber laser is only 20%-30% of that of CO2 with the same power, making overall cost lower than other laser sources.
Operating Requirements and Maintenance
When it comes to CO2 laser, you have to adjust the light path before operating, for the cutting effect depends on it directly. As a result,
it requires manual adjustments of light path and regular maintenance. YAG laser also needs regular maintenance due to the
Thermal Lens Effect. But fiber laser uses fiber optic transmission to spare the need for regular adjustments and maintenance.
Besides, fiber laser can also provide high stability and easy operation.
Suitable Industries
Fiber laser is suitable for metals including aluminum and copper because they are highly reflective. Fiber laser can meet the requirements
of sheet metal manufacturing, home appliances and new energy, etc.
CO2 laser suitable industry:
For no-metal areas, This machine is the newest design machine for metal and nonmetal materials engraving and cutting, more stable, cutting effect smoothly.
This machine can cut the metal materials,such as the stainless steel,carbon steel, also used for cutting the non-metal materials, such as acrylic,wood,leather,etc.
Fiber laser cutting machines are the latest type of laser cutting equipment, and has gradually take the place of other similar
cutting equipment such as CO2 laser cutting machines and become the mainstream. This is due to some key edges of fiber laser.
Low Costs of Use and Maintenance
① The photoelectric conversion efficiency of fiber laser can reach 30%, which is 3 times as high as CO2 fiber laser and 10 times as YAG. Total power consumption of a fiber laser machine only makes 20%-30% of that of CO2 laser.
② Fiber laser are powered only by electricity and does not need auxiliary gas, saving a considerable amount of costs.
③ Fiber transmission requires no reflective lens, saving maintenance such as parts replacement.
Great Processing Speed
① The max cutting speed of fiber laser cutting machines can reach 10m/min, and the max positioning speed can reach 30m/min, which are twice as fast
as CO2 fiber laser cutting machines ( in the same power) and 4-5 times as YAG. That makes fiber laser highly suitable for mass production.
② Once the product blueprint is finished, fiber laser processing can be initiated right away, and you can produce the products in the shortest time.
③ Due to the semiconductor modular and redundant design, there is no optical lens in the resonant cavity, so fiber laser machines can start working without any preparation time.
Favorable Cutting Quality
① The focus spot of fiber laser is much smaller, so the cutting line is thinner and more exquisite.
② Fiber laser head does not contact material, avoiding scratches on the surface.
③ The thinner cutting line makes hot area smaller, which lowers the deformation to the least.