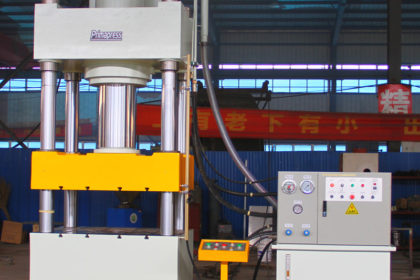 Maintenance items and safe operation steps of four-column hydraulic press
Four-column hydraulic press machineuses machinery and equipment correctly, earnestly performs maintenance and abide by operating procedures are necessary conditions for prolonging the service life of machinery and equipment and ensuring safe production. Therefore, the structure, performance and operating procedures of the machine should be mastered before using the four-column hydraulic press.
Four-column hydraulic machine maintenance:
1. After filling the oil tank with new oil or changing the oil, before starting the oil pump first, you must fill the pump with clean working oil from the oil pump return cup, otherwise, it is not allowed to start;
2. Starting the machine after a long period of shutdown (more than 2 hours), in order to check the operating conditions of the system, the oil pump should be left idling for 10 minutes without any load before operation can be carried out;
3. After the oil pump is started, the operation can only be carried out after the oil pump start indicator light is on;
4. The oil must be pure hydraulic oil, otherwise, it should be strictly filtered before it can be injected into the oil tank; Note: The oil volume must not be less than 2/3 of the oil standard height;
5. The first replacement period of the oil in the oil tank shall not exceed three months, and the oil shall be replaced at least once a year afterwards;
6. The pressure gauge should be checked and calibrated every six months;
7. When the contact area between the mold and the worktable of the four-column hydraulic press machineis too small, a backing plate of appropriate thickness should be installed;
8. The guide post of the movable plate should be oiled and lubricated frequently, and should be oiled every 8 hours during continuous operation.
Four-column hydraulic press machinesafety operating rules
1. Those who do not understand the structure, performance and operating procedures of the machine are not allowed to turn on the machine;
2. When the machine has unreliable action, excessive noise, vibration or leakage, it should be shut down immediately to analyze the cause, and the failure can be solved before restarting;
3. This machine is not allowed to work under overload or eccentric load;
4. Before the machine works, it should be operated strictly in accordance with the debugging procedures;
5. The grounding of electrical equipment is safe and reliable;
6. ​​Four-column hydraulic press machinePrimapress brand, the safety pressure of the system safety valve and the main cylinder return safety valve have been adjusted, and the user shall not adjust it without special requirements;
7. It is strictly forbidden for the movable plate to go down and overtravel. Strictly calculate the clamping height. If the height is not enough, a pad of appropriate thickness must be placed on the mold, and the parallelism of the bottom and bottom of the pad is less than 0.1/1000.