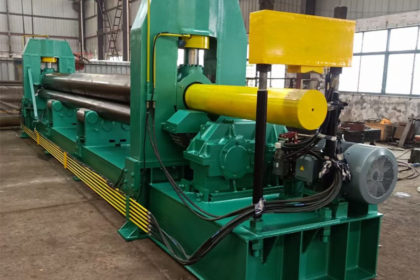 NC hydraulic W11S 3 roller steel bending machine with double pinch stainless steel pipe rolling machine
this big heavy duty plate rolling machine model is W11S 8*7000mm , which means it can roll round pipe of sheet metal 8mm
thickness and length 7000mm . W11S means hydraulic universal plate rolling machine,
it can do prebending and has big rolling power , and it is NC Control with PLC.
the  3 roller plate roll machine or four roller plate rolling machine.It's widely used in the manufacture of pressure vessels,machinery,hydropower,
construction and other industries of the barrel body's pre-bending,roll round,and also have a function of checking circle and leveling.
this heavy duty plate rolling machine buyer is making barrel . Primapress want more and more customers inquire us
about all kinds of sheet metal cutting and bending machines.