Description
CNC Full-Auto Numerical Control Single-Head pipe tube automatic Bending Machine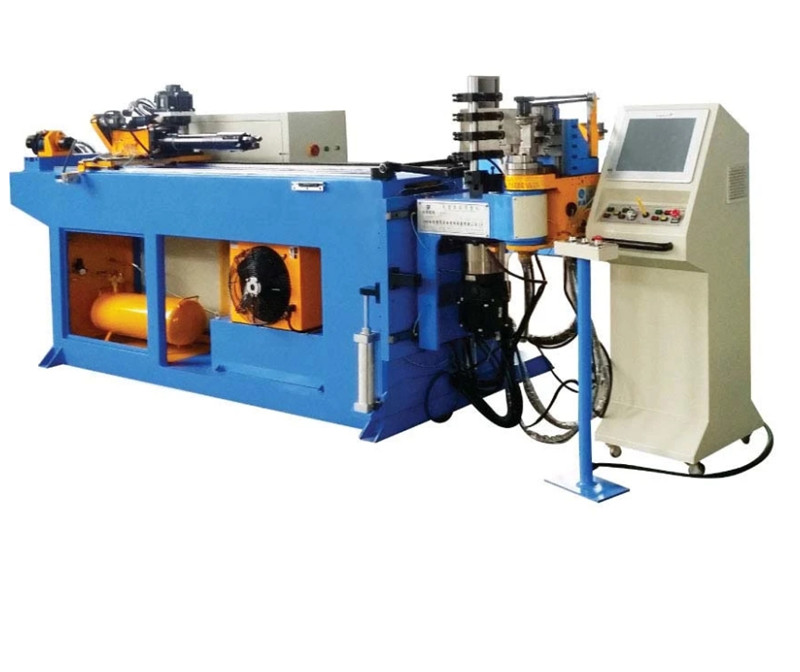 Machine Characteristics
SB-CNC Series numerical control single-head pipe bending machine is the product from the combination with our technology and advanced
Italian technology, integrated with machine, hydraulic, and electricity. This series adopt touch screen operating panel, which can input, store, and display
various bending data and order. Y, B, C three coordinates of motions under precision control by industrial computer can realize full-auto mandrel on or
mandrel off rapid bending, CNC machine also with advanced functions, such as components bending spring back compensation, errors self diagnose alarm,
memory store after power off, automatic lubrication and safety protection. Pipe bending(C axis) is driven by oil cylinder, while pipe rotating (B axis)
and pipe feeding(Y axis) are both driven by servomotor. Advanced technology, high automation reliability, integrated design all make
CNC pipe bending machine the first class pipe processing machine in the world.
 Machine Characteristics
This machine is servo drove and its electronic control system adopts touch screen and PLC. It is equipped with devices of pipe clamping, guide mould, mandrel,
crease-resistant, assist pushing, pipe bending ,rotating pipe and so on. Under hydraulic operation, this professional, high speed European pipe bending machine
can bend various dimension both normal and abnormal shape metal pipes and bending angles are controlled by high precision imported encoder
which ensures high precision of this machine.
 Main Technical Parameter
No
Name
Unit
 Parameter
01
Max bending capability:Mild steel round tube
mm
¢63*3
02
Min. bending radius
mm
R≥1.5D
03
Max. Bending radius(Standard)
mm
300
04
Though Effective Distance
mm
4000
05
Head overhang (on bending center)
mm
500
06
Head height (on bending center)
mm
120
07
Bending center height (from floor)
mm
1050
08
Max. Bending Angle
°
190°
09
Max. Bending Speed
°/sec
90
10
Bending Angle Precision
°
±0.10
11
Feeding pipe precision
°
±0.10
12
Max rotating speed
°/sec
180
13
Max curves in one pipe
curves
20
14
Pipes storage capacity
pieces
200
15
Hydraulic System Motor Power
KW
5.5
16
Hydraulic Pump Output Volume
L
23
17
Max Pressure
Mpa
16
18
Oil Tank Volume
L
320
19
Repeated Location

Precision

Bending Axis
°
±0.1
Diversion Axis
°
±0.1
20
Ovality rate after processed
<8%
21
Thickness Reduction after processed
<12%
22
Tooling Center Height
mm
55
23
Feeding Method
1.clamping
2.loosen
24
Feeding Servo
KW
1.0
25
Rotating Servo
KW
1.0
26
Gross Power
KW
8
27
Machine Voltage
V
As per customer's requirements
28
L*W*H
mm
5000*1200*1300
Configuration of Hydraulic and Electronic Control System
| | | |
| --- | --- | --- |
| No | Name | Manufacturer |
| 01 | Touch screen | Taiwan Weinview |
| 02 | PLC | Japan Mitsubishi |
| 03 | Rotating servo motor | Japan Mitsubishi |
| 04 | Feeding servo motor | Japan Mitsubishi |
| 05 | Rotating driver | Japan Mitsubishi |
| 06 | Feeding driver | Japan Mitsubishi |
| 07 | Linear guideway |  SHAC(Taiwan) |
| 08 | Magnetic Valve | Japan Yuken |
| 09 | Flood Valve | Japan Yuken |
| 10 | Oil tube | Suzhou Kejia |
| 11 | integrated oil circuit | Taiwan Shanghong |
| 12 | Vane pumps | Taiwan Xinghong |
| 13 | Main motor | Suzhou Jialifan |
| 14 | Emergency Button | Omron |
| 15 | Oil tank | Shanghai Qifan |
| 16 | Other electric parts | Schneider |
| 17 | Optoelectric switch | Omron |
| 18 | Power Switches | Taiwan Meanwell |
| 19 | Relay integrated block | Custom-made |
| 20 | Transformer | Wuxi Xinyu |
| 21 | Reducer |  hente |
| 22 | Bearing | Wahaluo |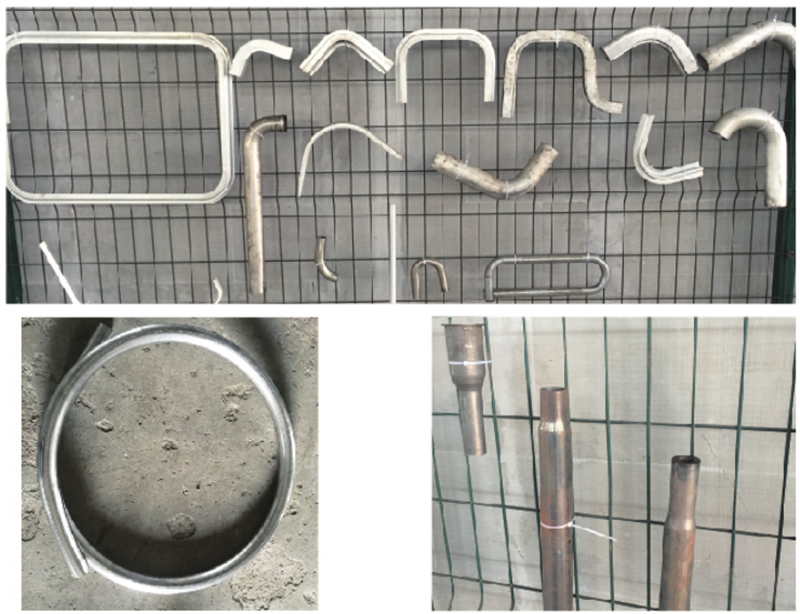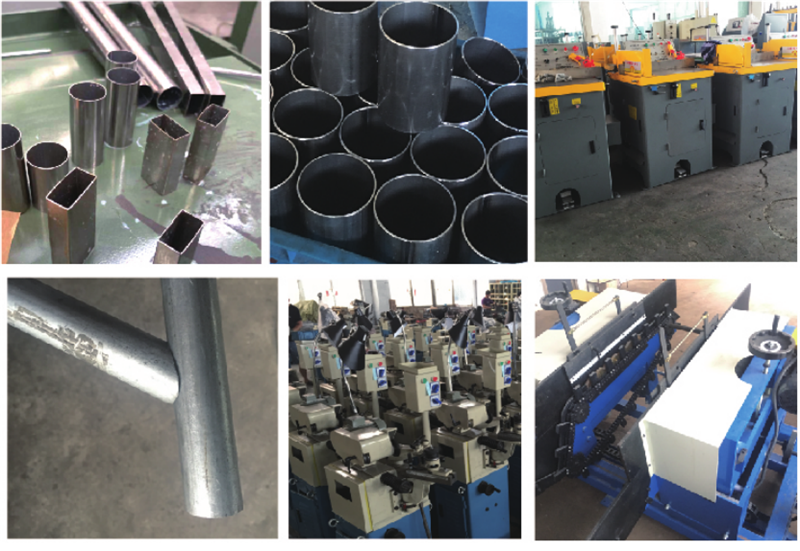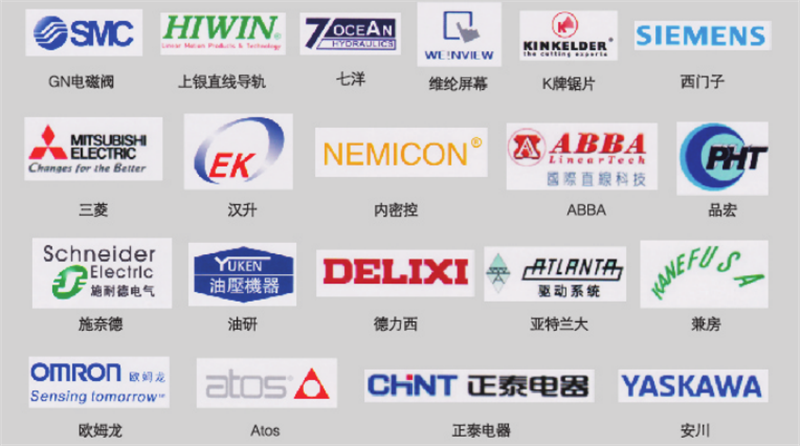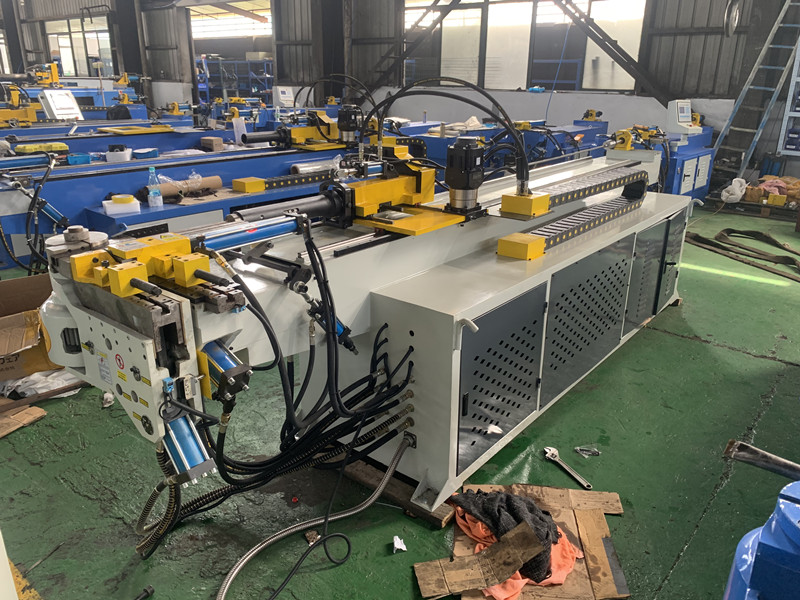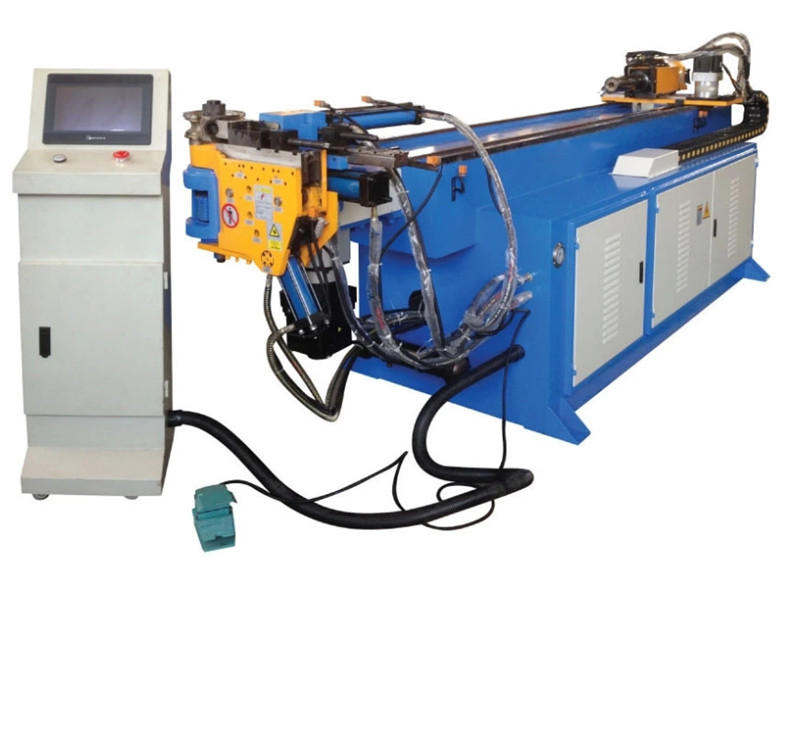 #bending machine metal                 #sheet bending machine metal              #metal tray bending machine
#metal bending machine cnc             #metal fittings bending machine                    #metal profile bending machine
#automatic metal bending machine