Description
Taiwan quality Horizontal Cnc Milling Machine Manufacture HMC Horizontal Machining Center Supplier
Horizontal Cnc Milling Machine Features: 1 Fixed column structure 2 Numerical control sub table, minimum 10, hydraulic clamping, suitable for heavy cutting. 3 Gas liquid conversion lift balance device 4 Z axia to the four rectangular hard rail;X axia to overload roller type linear guide rail;Y axia to rectangular hard rail Horizontal Machining Center Application: Horizontal machining center spindle speed is high, the rigidity is strong, the torque is big. The main shaft is equipped with cooling system, the automatic rotation of the double working table, reducing the auxiliary time, improve efficiency. This series of machine tool performance is perfect, the precision is stable, it is suitable for processing various types of box parts and two dimensional, three-dimensional surface, it is mechanical, automobile, communication, textile machinery, printing machinery, agricultural machinery and other industries processing box type parts of key equipment.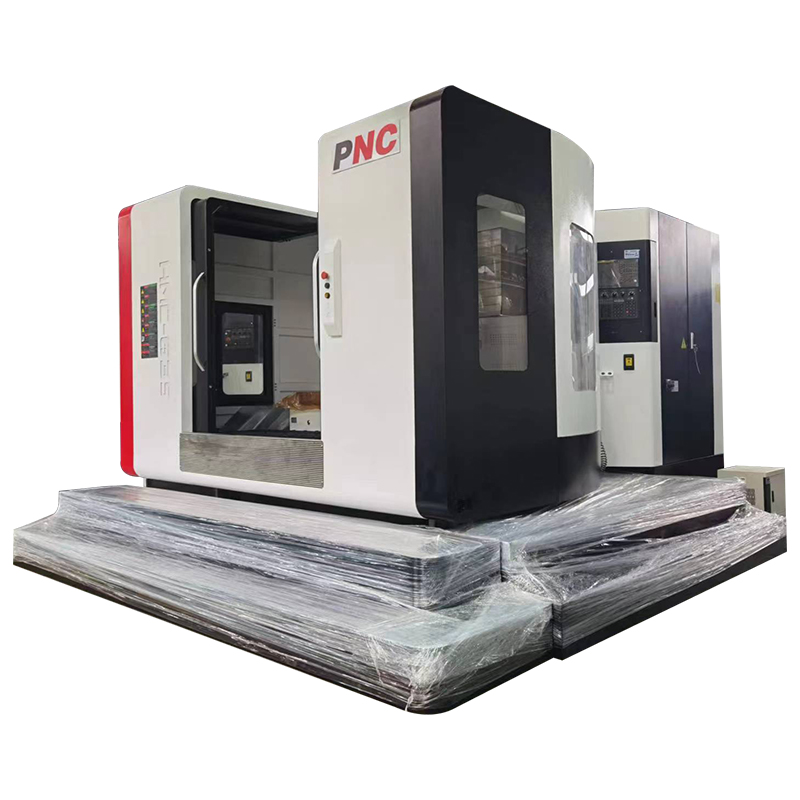 Horizontal Machining Center CNC Column structure: The column adopts high and low stage structure design and processing, the spindle is closer to the guide rail to improve the rigid structure Workbench 1. Standard rotary table, reinforced structural rotary table with strong bearing capacity. 2. The B-direction worktable adopts automatic hydraulic locking, and the powerful clamping mechanism can meet the powerful cutting conditions.
Based on the box structure, this type of structure is a thermally compatible structure that can achieve excellent rigidity and
excellent precision performance. At the same time, it also has the ability to resist torsion and bending deformation, so as to support the entire Z-axis stroke to achieve the best straightness.
Model

Unit

HMC 50B

Travel

X-axis

mm

750

Y-axis

mm

750

Z-axis

mm

750

Spindle

Spindle center to worktable surface

mm

50~800

Spindle nose to worktable center

mm

135~885

Spindle taper

BT50

Spindle speed

rpm/min

10~6000

Spindle drive mode

Direct

Spindle motor

kw

Fanuc 11/18.5

Max.torque of spindle

Nm

263/442

Worktable

Table size

mm

500*500

Division angle

deg

0.001

Reference aperture

mm

Φ55H7

Max. load on worktable

kg

600

Number of worktable

pcs

1

Precision

Positioning accuracy of rotary table

arc-sec

10″

Repeated Positioning accuracy of rotary table

arc-sec

6″

Positioning accuracy

mm

0.012

Repeated Positioning accuracy

mm

0.008

Feed speed

Cutting speed X/Y/Z/W

m/min

1-10

Rapid traverse speed X/Y/Z/W

m/min

30/30/30

Tool magazine

Capacity of tool magazine

24

Tool selection method

Random

Tool exchange mode

Arm type

Max. tool weight

kg

15

Max. tool length

mm

350

Tool change time

sec

2

Max. tool diameter (no adjacent tool)

mm

Φ105/200

Others

Air pressure

kgf/cm²

6

Voltage

kva

45

Tank Capacity

L

700

Floor area
(length*width*height)

mm

5675*3625*3055

Weight

kg

14000