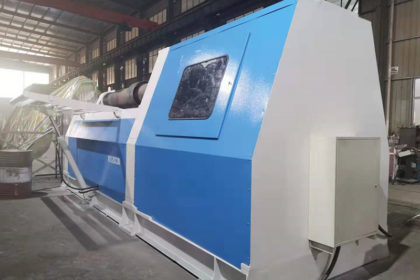 sheet metal 4 roller cnc plate bending machine/four rolls plate rolling machine
automatic hydraulic CNC 4-roller metal sheet plate bending rolling machine plate roll machine
today, we exported one heavy duty rolling machine, automatic hydraulic CNC 4-roller metal sheet plate bending rolling machine
or called 4 rolls plate roll bending machine . this heavy duty 25x3200mm plate rolling machine buyer is Peru.
The 4 roller bending machine widely used in petroleum, chemical industry, cement, boiler, shipbuilding, aviation, water conservancy,
power transmission towers and other machinery and equipment. Its working principle is rotating bending deformation.
For the upper roller can be moved no matter up and down, but also horizontally, so no need additional press or equipment, can realize pre-bending,
bending, as well as correction of the workpiece. we used very high standard components for this Hydraulic Plate Rolling machine is follows:
Main power:Siemens Electrical made in Germany
Main electronic elements: Schneider made in France;
Axletree:Double-row self-aligning bearingfrom Germany
Main motor: Siemens Electrical made in Germany
Programmable logic controller PLC:OMRON products from Japan
Hydraulic system: Bosch – Rexroth made inGermany
Gear pump: made in China TaiWan ;
Work Roller:Material of work roller with 42CrMo Alloy steel.