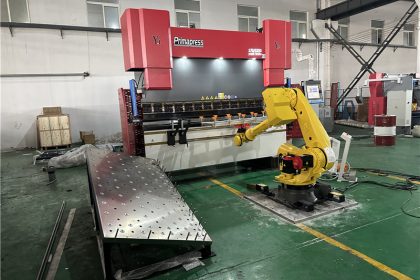 Sheet Metal bending Automation: How to Improve Enterprise Market Competitiveness?
Primapress brand Professional manufacturer of CNC Press brake, CNC shearing machine and CNC bending machine
bending press brake robot Automation technology can unleash untapped potential and optimize 80% of the processes in sheet metal production. The challenge faced by the sheet metal processing industry is to find economical automation solutions, especially in response to new market requirements such as small batches and urgent orders.
bending press brake Robots can reduce employee labor intensity and reduce product costs
Cutting, welding, and bending are the core tasks of sheet metal processing plants, and achieving automation of these processes can effectively improve productivity and competitiveness. Similarly, using robots to load and unload parts at various processing stations can replace the traditional manual, monotonous, and error prone processes. Equipment used for leveling and deburring in the market can also be equipped with robotic arms to complete the loading and unloading of parts.
All employees need to do is place the cutting tray next to the equipment, and then automatically start the processing. The robotic arm uses monitoring eyes to identify the stacking height and position of sheet metal parts. Select the part gripper based on weight and size, and then lift the cutting piece onto the feeding roller track of the leveling machine. After processing, the robotic arm places the parts on another pallet. The advantage of this material loading and unloading process is that there is no need for personnel to carry out regular moving throughout the processing, and the saved manpower can complete other production tasks at the same time, thereby improving the productivity of the enterprise.
bending press brake Digitization has a positive impact on productivity
So far, various processes in sheet metal processing are usually independent solutions that are not connected to each other. Operators must coordinate and connect various workstations. The era of Industry 4.0 requires greater flexibility and efficiency than ever before, and the negative impact of labor-intensive and non value-added labor on productivity is increasing. Therefore, digitization and networking of machines and equipment have become very important, as they can create higher transparency for enterprises and tap into the potential for optimization.
With these technologies, enterprises can collect real-time data on the status of all equipment, perform proactive maintenance, analyze utilization rates, and optimize energy costs. More and more enterprises are promoting digital technology, marking the end of the routing list era. The monitor provides employees with information to accelerate workflow. A study confirms that 35% of people hope to use these systems in the future. The benefits of digitization are unquestionable, with 85% of surveyed companies stating that centralized management, control, and monitoring of networked machines and devices has brought cost optimization. 78% of respondents believe that digitization will have a positive impact on sales development.