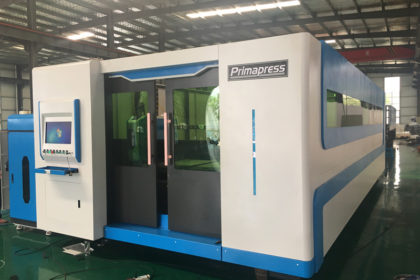 Sheet metal High power cnc fiber laser cutting machine is more and more popular
In recent years, China's laser manufacturing industry has shown an overall outbreak, which is inseparable from the rapid growth of domestic fiber laser manufacturers.
The high price of imported fiber lasers has always been a major development obstacle for laser devices to be used in larger applications. From this point of view,
domestic fiber laser manufacturers continue to introduce high-quality and low-cost products to the market. These products carry an important
historical mission of sustained and rapid development of domestic and even global laser equipment and application markets.
Recently, fiber laser technology and the market have shown two major trends: First, the power of single-fiber modules suddenly rises sharply.
Second, the laser processing power demanded by the market also rises sharply.
For a long time, the power of single fiber modules of most fiber laser manufacturers represented by IPG has been at a low level between 1000 watts and 1500 watts.
However, the power of single fiber modules has suddenly increased sharply, efforts by other manufacturers at home and abroad are also being made to introduce their
own high-power single-fiber modules, which can be considered as one of the main trends in the future.
The laser processing market has not been very demanding for ultra-high power lasers above the 10000W level, but it has suddenly changed. Taking the cutting market
as an example, the launch of the 15000W-20000W high-speed high-precision laser cutting machine has been very enthusiastic in the market, and the welding market
has begun to widely use ultra-high-power fiber lasers of more than 20000W. According to current trends, the cutting market will soon extend to 50000 watts or more.
In recent years, domestic high-power fiber laser products have achieved world-renowned progress in "quantity". According to the "2019 China Laser Industry
Development Report", China's fiber lasers above 1500W in domestic shipments accounted for 34.5% of total shipments in 2018. It is expected that domestic
high-power laser shipments will exceed imported lasers in 2019. However, it is undeniable that there is an obvious distance between domestic high-power
lasers and the top foreign manufacturers in terms of "quality".
The emergence of domestic 30,000W fiber lasers has improved the power coverage of domestic lasers, helping to get rid of the "hollowing problem"
of laser laser manufacturing in China, which is highly dependent on imported lasers. In the future, there will be more high-power laser cutting machines
that meet different needs, and the laser output power will continue to rise to new heights.