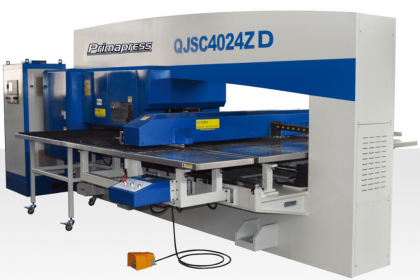 The characteristics and working methods of cnc turret punch machine cnc punching machine
Nowadays, the development cycle and manufacturing cycle of industrial products are getting shorter and shorter, and the quality requirements of enterprises are getting higher and higher. At the same time, the variety of products is getting more and more tired, and the batch is getting smaller and smaller. Therefore, sheet metal processing equipment is required to have high production efficiency, high flexibility and low production costs. The cnc turret punch machineing machine saves a lot of production costs, shortens the production cycle, and has a larger processing range and processing capacity. Then what are its characteristics, what is the processing method, let's go and see!
The characteristics of cnc turret punch machine cnc punching machine
The sheet metal processing of the cnc turret punch machineing machine can automatically complete the production of a variety of complex hole shapes at one time, and can process holes of different sizes, hole spacings and shapes as required, and can also use small stamping dies to punch large round holes, square holes and Curved contours of various shapes can also be processed by licensed technology. cnc turret punch machine presses are currently used by many powerful manufacturers in China for their convenience, speed and high precision. Its biggest features include the following seven aspects.
⑴Easy to use and save the cost of mold opening. The CNC turret punch press can perform complex forming processing, and is more suitable for enterprises with high requirements for sheet metal forming. Through simple die combination, compared with traditional stamping, a lot of die cost can be saved, and small batches and diversified products can be processed with low cost and short cycle time.
(2) Compared with the laser cutting machine, the cnc turret punch machineing machine with similar processing efficiency has about one-third the price of the whole machine, and the follow-up maintenance cost is low and the cost performance is high. The cost of using the mold of the cnc turret punch machine press is much lower than the nitrogen and oxygen consumed by the laser machine.
⑶ High machining precision and stable machining quality. cnc turret punch machineing machine has high punching precision, small punching burr, good workpiece flatness, less follow-up processing, low scrap rate, high forming quality, and the dimensional accuracy of digital punching can generally reach 0.1mm, and the dimensional consistency of the product is good.
⑷ cnc turret punch machineing machine can process workpieces individually or in batches with group commands to improve production efficiency. The processing speed of cnc turret punch machineing machine is fast, the stroke rate of general hydraulic equipment can reach 500~600 times/min, some even as high as 900 times/min, and the maximum positioning speed can reach 100m/min.
⑸For large-sized plates, it can basically be completed at one time, while the traditional large-sized plate processing requires multiple processes to be completed on many different equipment. In this way, due to the reduction of intermediate links, the reduction of post-processing procedures, and the reduction of mold design, and the simple integration of molds, labor is greatly saved and production costs are reduced.
⑹ When the machining parts are changed, generally only the NC program needs to be changed, which can save production preparation time.
⑺ Higher quality requirements for operators and higher technical requirements for maintenance personnel.
The processing method of cnc turret punch machine
The processing methods of cnc turret punch machineing machines can be divided into single punching, continuous punching in multiple directions, single forming, continuous punching in the same direction, nibbling, array forming and continuous forming. Single punch means to complete punching in a single time, including circular distribution, arc distribution, linear distribution, and grid hole distribution. Multi-directional continuous blanking is a processing method that uses a small die to machine a large hole.
Single-shot forming is a processing method of shallow-drawing according to the shape of the mold. Continuous punching in the same direction is a processing method in which rectangular molds are partially overlapped, and can be used for edge trimming and long hole processing. Nibbling is a process in which a small round die is used to continuously punch an arc in a small step. Array forming is a method of machining multiple different or identical workpieces on a large plate.
Continuous forming is a method of forming larger than the mold size, such as processing rolling steps, rolling ribs, large-size shutters, etc.