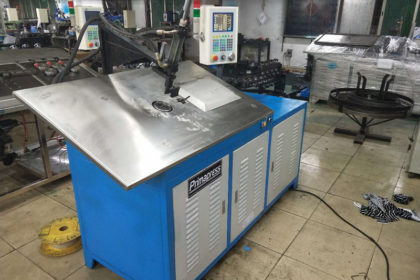 The forming working principle and operation precautions of metal steel 2d and 3d wirebending machine
Metal 2d and 3d wirebending machine is a kind of 2d and 3d wirebending machine. It can be bent into samples for metal steel wire, stainless metal steel wire, and metal wire. Their working principles are almost the same. In this article, we Let's learn about the working principle of the metal steel 2d and 3d wirebending machine.
The 2d and 3d wirefeed wheel is driven by a precision servo motor to rotate, and the professional 2d and 3d wirebending machine computer system is used to control each driver to perform each step of forming. The servo motor's slow-up and slow-down curve and the servo motor speed can be modified as needed to eliminate mechanical transmission. The impact ensures that the actual transmission 2d and 3d wirelength is consistent with the theoretical calculation length;
2. In the design budget, the length of each MM has been divided into 10 pulses, which further ensures that the length accuracy setting and the 2d and 3d wirefeeding accuracy can be controlled at 300±10 wires;
3. Adjustable servo shearing can ensure the neatness of the circle cut. Both the cutting time and the retracting time can be directly modified on the text display;
4. It is designed with manual slow feeding and slow return functions, which is easy to operate and reduce material loss.
5. The production can realize the angle without any change at the slowest speed, and the production stability is better.
6. ​​Important parts such as bearings and gears are imported from Taiwan. The warranty is 8760 hours, and the equipment is durable and reliable.
7. High precision, 2d and 3d wireforming products within the range of 2.0-14 mm 2d and 3d wirediameter can be made, and the error is reduced to 0.1 mm.
The supporting use of the steel 2d and 3d wirebutting machine makes the machine's 2d and 3d wirechanging operation more convenient.
Operation steps and precautions for use of 2d and 3d wireforming machine
Using a 2d and 3d wireforming machine to process and produce 2d and 3d wireforming products has a professional process. To complete a complete set of 2d and 3d wireforming production processes, let's take a look at the precautions for the use of the 2d and 3d wireforming machine.
1. When the 2d and 3d wireforming product is abnormal, it must be stopped before adjustment and modification.
2. When the machine is running, it is prohibited to touch the panel of the CNC steel 2d and 3d wirebending machine by hand.
3. The direction of the drop of 2d and 3d wiremolding products must be controlled. (I believe every master is familiar with it) so as not to jam the knife holder and cause collision.
4. Start the machine in strict accordance with the steps of use. Before production, all fasteners transferred during adjustment must be checked to avoid loosening, falling, shifting, collision phenomenon, and damage to the machine.
5. When the CNC steel 2d and 3d wirebending machine is damaged, it must be inspected and corrected by experienced personnel. When reporting for repairs, the relevant professionals should perform the repairs. It is strictly forbidden to disassemble without professional and technical personnel to avoid secondary damage.
Scope of application: suitable for various small buckle products with a diameter of 0.5-3.0φ (mm) and an unfolded length of no more than 90mm, such as iron wire, metal steel wire, copper wire, stainless metal steel wire, aluminum wire, etc. Kinds of metal wires (round, semicircle, oval, square, flat, sheet) are bent and processed into square buckles, round circles, oval buckles, S hooks, 9-shaped needles, 8-shaped buckles, plum blossom buckles, etc. Rules and regulations Various products in regular shapes.