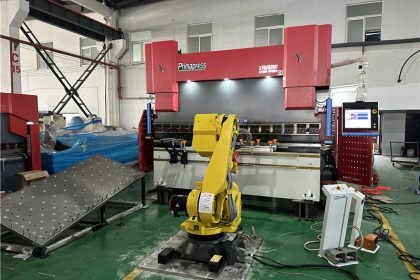 Four characteristics of Primapress brand cnc press brake bending robot bending cell
Primapress brand
Professional manufacturer of CNC Press brake, CNC shearing machine, CNC bending machine and laser cutting machine
With the continuous development and progress of society, the labor costs of enterprises are increasing year by year, and the difficulty of recruitment is also increasing. Enterprises are also eager for long-term and stable sheet metal workers. Due to considerations of labor costs and work efficiency, robot bending cells have also emerged with the development of the times. Robot bending cell can not only reduce production costs, but also better control product quality, improve work efficiency, and enhance corporate image.
cnc press brake bending robot Product features of cnc press brake bending robot:
Save labor
Work 24/7 to reduce the number of employees; Generally, two or more workers are required to work together to complete the bending of large plates and thick plates. The robot bending cell can realize unmanned bending, and the load bearing of the mechanical arm ranges from 20-500GK, which greatly meets the bending requirements of different sizes and thicknesses. The clamping tools can be flexibly changed according to different bending dimensions to meet different processing requirements.
High work efficiency
Robots have the characteristics of high stability and good consistency. For large quantities and single product workpieces, robot bending has obvious advantages over manual bending. Equipped with rear stopper fingers and detection sensors, continuously ensuring the consistency of each product. Adopting a dedicated software control system to achieve fully automated operation processes of loading, precise bending, following, and unloading.
Wide range of processing types
The seven axis robot has sufficient space and travel to adapt to the processing of various large, medium, and small complex workpieces.
High accuracy
At present, the precision and speed of cnc press brake bending robots vary with different brands. At present, the mainstream cnc press brake bending robot brands in the market include ABB, FANUC, Kawasaki, New Shida and other well-known brands at home and abroad.
ABB (150KG-300KG) accuracy standard 0.05-0.06mm
Kawasaki (20KG-80KG) accuracy standard ± 0.06mm
New Star (20KG-90KG) accuracy standard ± 0.10mm
Our factory has many robot design engineers and debugging engineers, and without waiting for third-party services, Primapress brand will directly install and debug Press brake and robots for you, with higher accuracy and faster service.