Description
full automatic straight seam welding machine for tank shell of water heater/solar water heater machinery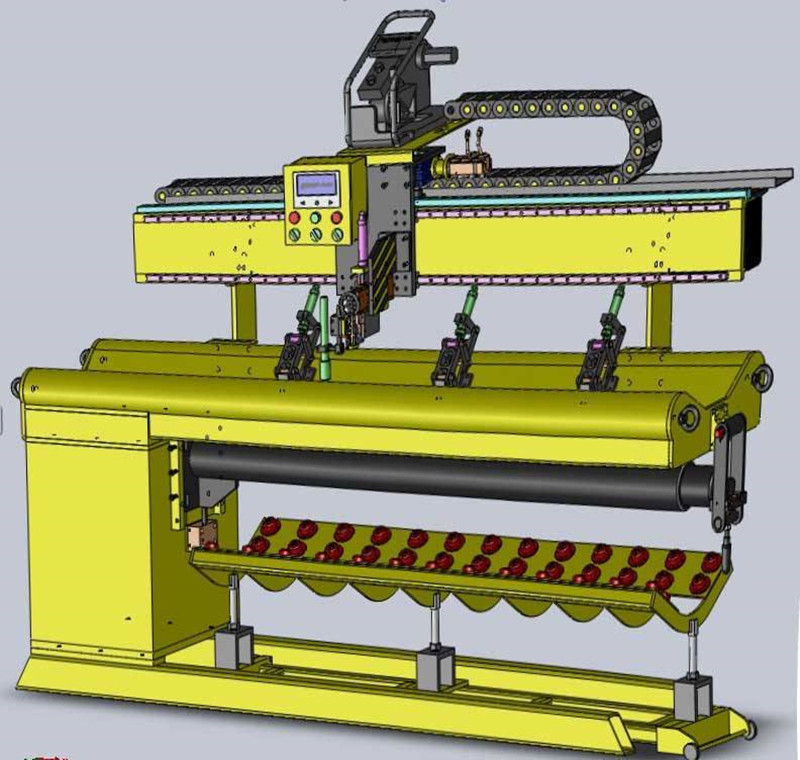 Third, the device name, model, quantity
Equipment Name: Straight seam welding equipment
Equipment Model:PM-3000
Quantity: 1
Fourth, equipment description
The automatic straight seam welder is used for welding the longitudinal seam of the rear barrel body of the coil. This machine can complete gas welding/arc welding and other welding methods.
Components of automatic straight seam welder: frame, traveling mechanism, piano key plate, welding main beam, pneumatic system, electrical control, welding power supply.
Fifth, the main equipment and its function description
Base
The frame is a steel structure with sufficient rigidity and strength, and is annealed by hand.
Key clamp
The key clamps are two sets of bilateral symmetry, which can apply pressure to both sides of the longitudinal slits. The clamping device is controlled by the button on the remote control button box to control the clamping and release of the left and right fingers, respectively.
The operation needs, can adjust the platen rear end support adjusting screw, can change the width between the pressing fingers, in order to meet the requirements of different thickness weldment welding process on the width between fingers.
Welding main beam
The welding girder is a solid square forging with a copper insert (copper), and the weldment is clamped and fixed together with the above-mentioned finger pressure finger. The back of the gasket has a forming groove. The holes in the groove can pass protective gas. The main beam is cooled by water. The vertical distance between the gasket and the pressure finger on the mandrel can be adjusted. The size can be adjusted according to the thickness of the welding piece. Adjustable range is 30mm. The welding starter is equipped with a starting positioning device and a central pneumatic positioning device.
Walking mechanism
The entire walking mechanism uses a complete set of modules (linear guide rail + ball screw) to ensure its accuracy when walking.
Air system
The compressed air circuit system is installed in the interior of the machine seat, and consists of a filter (2 sets each) and a pressure reducing valve. Pressure gauges and solenoid valves and other components. In normal use, the pressure of the pressure reducing valve is adjusted to 0.2-0.5Mpa, and when the thinner plate is welded, lower pressure should be used.
Electrical control
South Korea's PLC control, Schneider low-voltage appliances, touch screen operation
Equipment painting
According to the requirements of the paint industry standard for painting, the paint color of the main body of the equipment is big red.
Welding method: TIG welding with argon arc welding