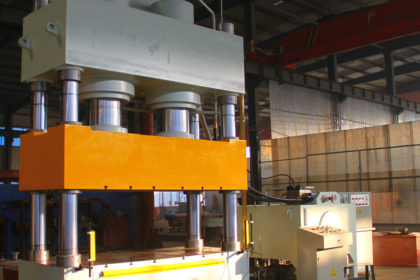 Working principle and safe operation process of four-column hydraulic press machine
The four-column hydraulic machine is the hydraulic oil of the oil pump to the integrated cartridge valve block, through the lower chamber of the hydraulic cylinder of various distributed check valves and safety valves, or under the action of high pressure, the oil cylinder moves. Hydraulic oil is used to transfer pressure equipment. The delivery pressure of hydraulic fluid in a closed container follows Pascal's law. The hydraulic transmission system of a four-column hydraulic press machine includes a power mechanism, a control mechanism, a transmission device, an auxiliary mechanism and a working medium. Use oil pump as power, press power mechanism is usually oil pump for product type. In order to meet the requirements of the movement speed of the actuator, the hydraulic machine chooses one pump or more oil pumps mainly for energy saving and increasing the pressing speed. To
The oil pump supplies oil to the small piston. The small piston drives the large piston down (upper press), the large piston forms a vacuum, the filling valve opens, and the oil in the high oil tank flows into the large piston by its own weight to ensure that the large cavity is always filled with oil. After contacting the workpiece, the pressure rises and the system reversing valve acts. The oil pump turns to supply oil to the large piston, because the large piston is full of hydraulic oil, and the hydraulic machine can quickly generate huge pressure. To
If there is only a large piston, a large oil pump must be used in order to ensure the pressing speed of the oil cylinder. A large flow and high pressure oil pump requires a large motor, which is a waste.
Safe operation of four-column hydraulic press machine
1. The operator of the hydraulic press machine must be trained to master the equipment performance and operating technology before they can work independently.
2. Before operation, clean up all kinds of debris on the mold and wipe off any dirt on the hydraulic machine rod.
3. The hydraulic press machine must be installed when the power is off. It is forbidden to collide with the start button, handle, and pedal on the foot switch.
4. Install the upper and lower molds to center, adjust the mold gap, do not allow one side to deviate from the center, confirm that the mold is fixed and try the pressure again.
5. Before the hydraulic press machine works, start the equipment idling for 5 minutes, and check whether the oil level in the oil tank is sufficient, whether the sound of the oil pump is normal, whether the hydraulic unit, pipes, joints, and pistons are leaking. Shenzhen hydraulic press machine TM series lead
6. ​​Start the equipment to test pressure, check whether the pressure reaches the working pressure, whether the equipment operates normally and reliably, and whether there is any leakage.
7. Adjust the working pressure, but it should not exceed 90% of the rated pressure of the equipment, test a piece of work, and then produce after passing the inspection.
8. For different hydraulic materials and workpieces, when press-fitting and calibrating, the working pressure, pressure, and pressure holding times and time of the press should be adjusted at any time, and the mold and workpiece should not be damaged.
9. When the machine body presses the plate up and down, it is strictly forbidden to put your hands and head into the press plate and the working part of the mould.
10. It is strictly forbidden to perform operations such as tapping, stretching, welding, bending, and twisting while applying pressure.
11. Smoke, welding, hot fire are not allowed around the hydraulic press machine, and no flammable or explosive materials are allowed to be stored. Take fire prevention measures.
12. After the hydraulic press machine is finished, the power supply should be cut off, the hydraulic rod of the press should be wiped clean, lubricating oil should be added, and the mold and workpiece should be cleaned.