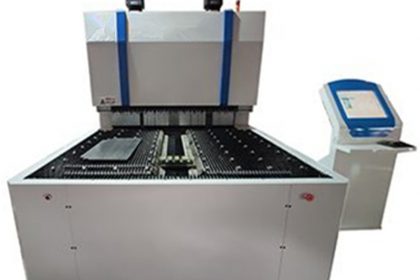 What are the advantages of the sheet metal servo flexible bending center machine?
sheet metal Automatic servo flexible bending center enables users to effectively handle large quantities, and even improve efficiency without making mistakes.
Hydraulic servo bending center
The sheet metal processing industry is under pressure: it must maintain low production costs without compromising quality.
At the same time, continuous changes in shape, size, and batch size require a higher degree of flexibility. Companies that want to remain competitive must increase process flexibility and, most importantly, they must also automate. Jiangsu Shengchi's automatic bending center can achieve these two goals at the same time.
Automatic bending center
The fully automatic sheet metal bending unit provides the maximum efficiency and flexibility for small and large manufacturing companies.
The modular design allows the bending unit to be individually adapted to the company's requirements. It is very suitable for processing long work lists and also for changing orders: from small batches to large batches.
Application area
L thin door panel
L lighting fixtures
L electrical cabinet
L elevator
L steel furniture
L HVAC
L Catering industry
L household equipment
L Industrial cold chain
Customizable and flexible
L Universal bending tool
Automatic sheet metal  bending length setting system can provide high productivity and flexibility level
L auxiliary tools
The    auxiliary tool system makes Shengchi bending center a multi-functional bending equipment, which can perform various special bending.
L Adaptive automation
Modular design allows integration of other systems to achieve complete automation, such as different loading and unloading systems or other sheet metal processing equipment.
Automation saves time
L High panel bending productivity
L Highly flexible machine
L Automatic parts handling
Flexible servo bending center reduces manual intervention to a minimum and makes full use of available resources. The robot can not only automatically change the gripper and the bending tool, but also know how to handle the job most efficiently: the intelligent software automatically determines the best bending tool sequence for each job list. This can save up to 30% of processing time.
After the initial offline programming of Primapress's sheet metal automation production line, the bending unit runs completely autonomously. When the robot bends, the operator can perform other tasks, such as the supply and removal of sheet metal and parts or operate a laser cutting system or a welding system.
At the same time, the bending center is reliably programmed. In the quality control process, thanks to the intelligent correction function, the private server flexible bending production line provides high repeatability.
Based on years of experience in bending plate business, we market its automatic panel bending machine as the best bending solution.
In order to improve productivity, Shengchi bending center is equipped with an automatic bending length setting system. The system can adapt to the size of the plate to be bent, allowing continuous production of parts of different sizes without manual adjustment.
It can also reduce machine downtime, while ensuring user safety and eliminating any potential human error. The automatic part handling system further shortens the cycle time, making this machine an ideal solution for short-term and long-term production.